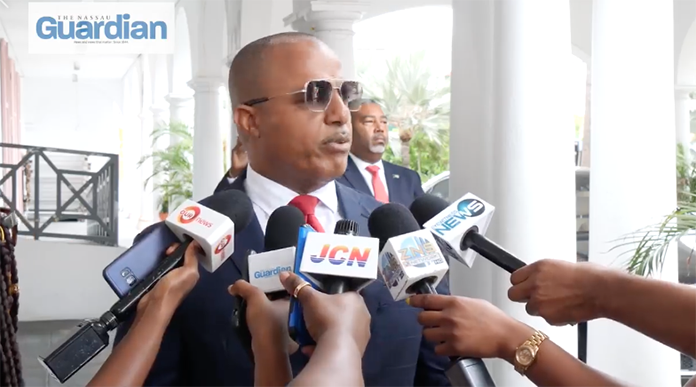 Nassau – Sometimes you must wonder if the persons holding the microphones are really serious about doing their jobs. And, further, you must wonder if they are even prepared to ask the right questions.
Everyone asked Minister Marvin Dames on the steps of the Cabinet Building about the police shooting in McCollough Corner on Sunday that took the life of a 20-year old resident.
But that was not the question to ask! Reporters should have asked the Commissioner of Police those matters.
Someone should have asked Minister Dames about a 1997 DEA Report – now tabled in the records of Parliament – where his name is mentioned in an alleged bribery matter. But no one did and we at BP wonder why?
In that tabled report, now seen by Bahamas Press and generated from Parliament, it is alleged that Minister Dames, then head of the Drug Section, was given a $250,000 bribe payment from a MAJOR DRUG DEALER to enable the dealer to come home smoothly without being prosecuted by the law for the drugs. Now this is interesting because that Drug Dealer was extradited to the United States of America. Close attention should be paid to these tabled documents. And if journalist do their homework, they would really understand what it means to become investigative.
We at BP will not run on with the matter. We invite former Prime Minister Hubert Ingraham to speak to the issue as he quickly sent Dames off the island and out the country when the revelations were tabled to evade the fallout of the famous The Long Island Documents. What were they hiding? Why the protection? Why the silence? Ahhh boy – its gets worse form here and all we say is this – IT DOES NOT LOOK GOOD!
We hope, after reading what is tabled in Parliament and attached below, yinner begin gathering questions for Dames and ask him: How did you get caught up in this? What was his role? And why has he not to this date explain this matter with the public?
We report yinner decide!
Read US DEA REPORT TABLED IN PARLIAMENT EXPOSING GANGSTERS AND CRIMINALS IN THE BAHAMAS! Wonder why the WUTLESS MEDIA in the Bahamas would not raise this issue?