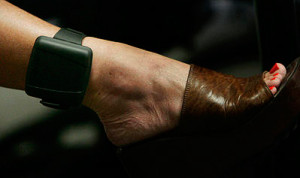 NASSAU, The Bahamas — A detailed process resulted in an Electronic Monitoring System for The Bahamas, Minister of National Security the Hon. O.A. "Tommy" Turnquest said Friday.
Contracts for the Electronic Monitoring System were signed Friday between Mr. Turnquest, representing the Government of The Commonwealth of The Bahamas; ICS/Security Concepts and its partners International Surveillance Services Corporation and Secure Alert Inc. based in Utah, United States of America.
Mr. Turnquest said the "systematic management of the process of bringing electronic monitoring to The Bahamas", was entrusted to a Committee headed by officials from the Ministry of National Security, in addition to officials from the Royal Bahamas Police Force, Her Majesty's Prison Service, Ministry of Finance, Office of the Attorney General, Department of Rehabilitative and Welfare Services, Bahamas Telecommunications Company and the Bahamas National Geographic Information System Centre (BNGIS).
Mr. Turnquest said the Government was "clear" on what it wanted from the beginning of the process.
"We set out our requirements in a carefully crafted Request for Proposal (RFP) which was circulated in July, 2009. We emphasised that the Government wanted a solution that was tailor-made for The Bahamas, and that required little or no additional design or development work, and one that took advantage of new technological advance," he said.
Mr. Turnquest said 18 companies responded to the Request for Proposal (RFP) and where apprised of what the Government's objectives and expectations at a briefing in August, 2009. He said nine proposals were received by the Ministry of National Security by the deadline of September 25, 2009. The letters were opened at a Tenders Board Meeting in October, 2009.
The National Security Minister said officials ensured the process was meticulous and above reproach.
"We did not take the word of the prospective providers that they could deliver the system we needed," he said. "We tested them extensively during the first week of December, 2009, to ensure that they could."
He said a Technical Sub-Committee then observed demonstrations by the nine companies on the effectiveness of their devices and systems in New Providence, Paradise Island, Central Andros, at sea, at high altitude, submerged water and within inclusion and exclusion zones.
Testimonials from clients of the nine firms on the quality of the services they rendered before short-listing prospective vendors which resulted in six of the vendors being advanced to the second stage.
"The Sub-Committee did a commendable job in analysing the various capacities and options and identifying the company they considered best qualified to deliver The Bahamas Electronic Monitoring System. That company is ICS/Security Concepts, partnered with International Surveillance Services Corporation and Secure Alert Inc., based in Utah, United States of America."
"This Contract Signing Ceremony culminates our negotiations between the Government and ICS and its partners, and the conclusion of an Agreement that meets the Government's goals and objectives and has the full commitment of ICS, Secure Alert and its partners," Mr. Turnquest added.