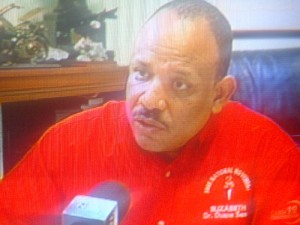 FNMs defy Papa's order to suspend campaigning for Holy Week
Nassau, Bahamas — FNM MPs, scrapping like the scrap gang on Bay Street Boxing Day morning, have defied Papa Clown's orders to suspend all political activities during Holy Week.
BP has been canvassing constituencies and guess what we found! Against the orders of the man who likens himself to a supreme being in the FNM, Party candidates and their election teams were campaigning on Holy Monday.
Hubert Ingraham told supporters in Fox Hill he would be suspending all campaign activities in observance of Holy Week, which began two days ago with Palm Sunday.
But on Holy Monday, FNM campaign workers for Tall Pines, Mt Moriah and Elizabeth were seen hitting the pavement and knocking on doors.
BBB Analytics proved the FNM is down in the polls in many constituencies throughout New Providence and on the family Islands.
In Long Island, for example, Loretta Butler Turner is trailing miserably. In North Andros, following Desmond Bannister's threat to voters in that constituency, FNM support has plummeted and is now down to 28% in popular support, a 15 percent drop compared to the numbers before the announcement of Dr. Perry Gomez as a candidate.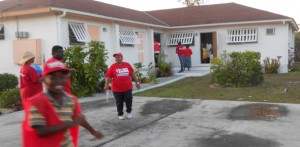 Dr. Gomez now leads that North Andros and the Berry Islands constituency by a comfortable 69% support base, a virtual BLOWOUT in Bahamian politics.
Fighting for his life like a swimmer chained to the bottom of the ocean is FNM Elizabeth candidate Duane Sands. The Senator, we can confirm, not only has a problem gathering support in the constituency, but also has a bigger challenge convincing supporters in the constituency to vote for him after agreeing with the party's position to throw single mothers who have found it hard to meet mortgage bills onto the streets.
Duane Sands got the shock of his life when a longstanding FNM caucasian Bahamian female drove out of the gates of Treasure Cove in her spanking brand new Tahoe with two huge GOLD flags with Ryan Pinder written on them.
Sands' naked constituency office sits right in the front of the gates of the Treasure Cove community, yet Sands is getting doors slammed in his face, one after the other.
Another affluent middle class couple who voted FNM in the last election were overheard greeting Sands saying, "Man, we gone GOLD!"
On the popular Ortland Bodie show today Sands saw nothing wrong with writing off a 100 million dollar debt in overruns for the road, but rejected the same to help Bahamians whose homes are in foreclosure in the thousands.
IMAGINE THAT! THE GOVERNMENT IS WILLING TO WRITE OF 100 MILLION DOLLARS FOR ROADWORKS BUT REFUSE TO DO THE SAME TO HELP BAHAMIANS FROM BEING KICKED OUT OF THEIR HOMES!

We report yinner decide!