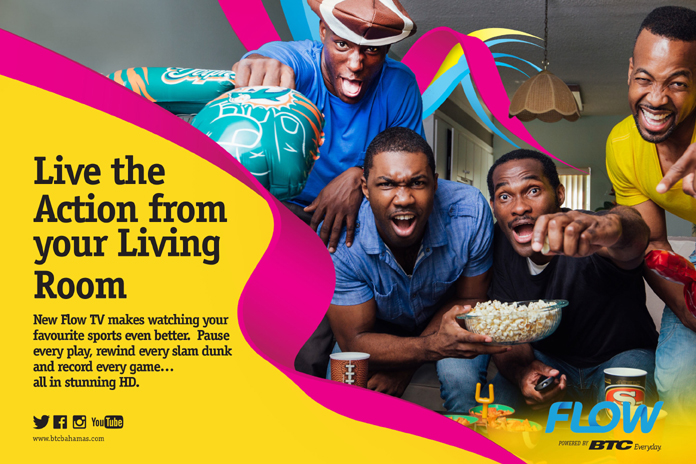 It was indeed a Blue Letter Day for Biminites at The Pavillion of Resorts World Bimini on Thursday, January 28th. That is when The Bahamas Telecommunications Company Limited officially launched its commercial Flow TV, to rival the service previously provided solely by Cable Bahamas,
A cross section of the society of Bimini expressed their pleasure with the new television programming and they spoke very candidly as they made comparison between Flow TV and Cable Bahamas
.
Some residents say they embrace the new service because it has been tried and tested and meets their approval and overwhelming support. Many of them are among the three hundred customers who have already signed up for Flow TV.
Among them is businessman and community activist Lorrick Roberts, who has concluded that the BTC Flow TV is better than Cable. He said, "BTC has high definition, which Cable Bahamas does not have in Bimini and the price of BTC television is cheaper." Roberts also stated that "Cable Bahamas is inconsistent, its programming is inferior, they don't have digital TV, the price is ridiculous and we are not getting value for money."
Roberts went on further saying that a major difference between Cable Bahamas and BTC Flow TV is that Cable Bahamas does not have a physical presence on the island. "We have to pay our cable bills at the Royal Bank and then fax the receipt of payment to Cable Bahamas. BTC has an office in Bimini and it will be much easier to do business with them," he said.
Roberts also has an issue with Cable Bahamas' billing cycle. "Cable Bahamas' monthly billing cycle ends on the 21st. day of each month. Most people are paid at the end of the month, so whenever the bills are paid they are usually late, and an additional $5 late fee is charged." He noted that "this is also a major inconvenience and a financial burden on most people who are with Cable Bahamas. And in addition to that, if there is a discrepancy with the bill, the burden of getting it sorted out is a cost to the customer."
Roberts is convinced that "Cable Bahamas poses a major inconvenience for most of its customers in Bimini." But he has one fundamental problem with BTC Flow TV. "It does not have the Sun Channel out of Florida, the home of the Miami Heat basketball team and the Miami Dolphins."
Another resident of Bimini, Ms. Juliette Dean, who has retired from the Department of Local Government after 44 years says, "BTC is a major improvement." She said that "the television quality offered by BTC is excellent," adding that she came onboard during the trial and testing period which was "very good."
" I like it ," says businessman Aaron "Star" Smith of BTC's Flow TV. "I prefer it to Cable Bahamas because it offers more channels, more Bahamas channels and mainly because Cable Bahamas has not improved."
Lloyd Edgecombe, a member of the Bimini Local Government Council concurs with sentiments expressed by other Biminites. He said "this is a good thing for Biminites because it gives us more channels as opposed to Cable Bahamas which only provided 30 channels. It gives us more options because the programming is better." Edgecombe believes that the people will eventually gravitate to BTC Flow TV.
Rhondalet Rolle says BTC's Flow TV "is very good. It comes in better than Cable".
Jonisha Poitier, a Reservations Supervisor at Bimini Sands in south Bimini says, she did not have Cable but "BTC Flow TV is an awesome venture."
The General Manager at Bimini Sands Michael Munnings said the hotel is undergoing renovations at this time but as soon as the work is finished, "Bimini Sands will get it."
IT Manager at Bimini Sands is Tyrone Knowles. He added that "BTC Flow TV is a breath of fresh air in Bimini. It's good to see technology upgrading in Bimini and it will also help to improve the hospitality business on the island."
To Cherisse King, an employee at the Bimini Post Office, "It's wonderful. I love the channels. Some people were complaining about the service during the testing period but now that the problems have been solved, many persons say they will sign up for the service within the next month."
Another retiree, Micah Roberts has just moved back home to Bimini over the past six months. He does not have the service, but like many others, "I am looking forward to getting it." Roberts would like to see more local programming on Flow TV and local radio stations because we cannot get any radio stations in Bimini on a regular basis."
Former Member of Parliament for West end and Bimini George Weech and his wife Curlene say they do not have the service yet but they too intend to get it. "BTC Flow TV is working well and compared to the other people, it is much better."
An employee at BTC Pertina Saunders said the reception of Flow TV has been great. She said "we had to resolve some situations because a few customers had some concerns, adding that "Bimini is a small community, but we are here to please."
In the words of the Chief Executive Officer at BTC Leon Williams, "Flow TV has revolutionized Bimini, the island of many firsts for BTC."