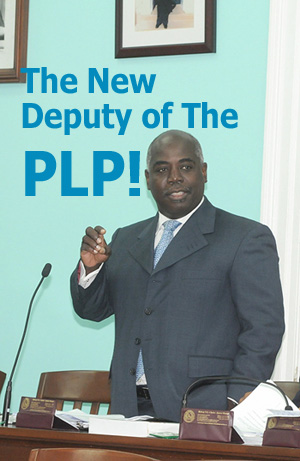 Nassau Bahamas — Bahamas Press all day had lifted up in prayer one of our finest, noblest sons who WILL serve his country well as he moves into the office as Deputy Leader of the Progressive Liberal Party. Mr. Philip "Brave" Davis is now the number two-man in the organization.
We praise him because he is like no other we've seen for a longtime in Bahamian politics. He is humble, youthful and READY! Like a divine messenger sent from the Most High, thousands of Bahamians across the length and breadth of this country have felt the warmth from the Cat Island, Rum Cay and San Salvador MP. We, like Laura Williams and scores of others, had thrown our support behind BRAVE DAVIS, 100%, and here's why.
When Hubert Ingraham decided to suspend the Education Loan Guarantee Scheme and dashed the opportunity for higher education for thousands of students, BRAVE DAVIS became the voice against this 'VICKED' ACTION! He told Ingraham this was wrong and offered solutions to fix the crisis. He is the man for CHANGE!
When nefarious land barons in this country were taking family islanders land, Brave Davis stood in Parliament and took them on. No one else could be heard fighting for the people's land. No one else took on Ingraham but "Brave" was BRAVE.
When the nurses of this country were hollering all over the place for their insurance coverage and saw the time had come to protect those who stand on the front line of healthcare in this country, ONLY Brave Davis could be heard telling Hubert in Parliament to cover and protect the nurses. He is a CHANGE agent!
And when we saw the bloody acts of violence and the collapse of our Criminal Justice System, Philip Brave Davis began to suggest that the time has come for an overhaul! He is the only candidate who has addressed, in detail, this issue. Brave Davis has tackled the issue of young people being slaughtered all over our nation and has stood committed in solving our NUMBER ONE PROBLEM; GROWING CRIME AND A FAILED JUSTICE SYSTEM!!!!!!

As we heard on his commercial blitz taking the airwaves by storm, "Brave is a man with integrity, honesty and his word is his bond! He is a kind man and generous man. A hardworking man. He can reach the younger generation. Brave has been a father, he's a mentor, he's been a Leader, and he's definitely a good man! He's a God sent man and so we went with Philip "Brave" Davis all the way with this!" Why?
BECAUSE HE GETS THINGS DONE!