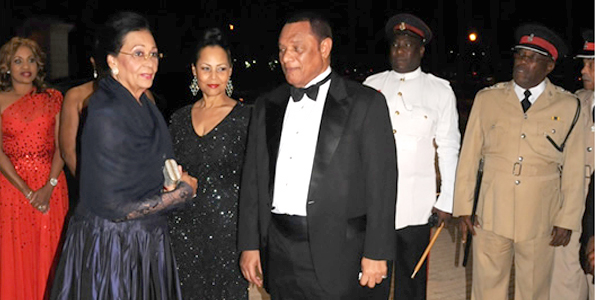 Nassau, New Providence – Under the distinguished patronage of her Excellency, Dame Marguerite Pindling, Governor General and the Rt Hon. Prime Minister, Perry G. Christie and Mrs. Christie, the Heart Ball Committee hosted the 51st Annual Heart Ball on Saturday, February 14th, at Melia Nassau Beach Resort. The theme for this event was, "Affairs of the Heart…. Sustaining heart beats one at a time."
The ballroom was beautifully decorated with white flowers by Symone's Basket of Happiness, mesmerizing patrons and making room to dance the night away. The MC for the evening was Mrs. Stacy Campbell-Marshall.
There were live performances by the S-G Band (Soulful Groovers), the Ed Brice Orchestra, and the RBDF Dance Band, followed by music by Gary (Super) Johnson. Guests hit the floor the moment "I Will Survive" started playing.
One of the highlights of the evening was the presentation of the Lady Sassoon Golden Heart Award, which is based on nominations and goes to someone who gives selflessly to make life better for others. The winner of the 2014 Golden Heart award was Mr. A. Bismark Coakley. He got this award namely for his work with physically challenged children and helping his fellow man.
Another highlight of the evening was the distribution of prizes. Guests listened anxiously for the numbers for the table prizes which included: spa treatments, dinner for two, and much more.
Another prize that had the room quiet with anticipation was the drawing of the Signature Raffle for his and hers David Yurman watches. This prize was won by Monique Cartwright.
The top in-house raffle prize went to Lady Camille Barnett. She won a round trip ticket for two on British Airways to London, a two toned Eco Drive Diamond Bezel Citizen ladies watch from Colombian Emeralds, an oil painting by Clifford Fernander, and a Coronary Calcium Score with Cardiac Consultation at The Bahamas Heart Center.
The second raffle prize went to Eugene Burrows who won a United Airlines tickets for 2, anywhere in Continental USA, a Thomas Sabo watch by Coin of the Realm, a pink pearl and precious gem clasp system by B'Jou Classiqueand a painting by Nettica Symonette.
The third raffle prize as won by Michelangioli Baccelli giving him a roundtrip ticket for two on Bahamasair to South Florida, 3 night stay for two at Melia Nassau Beach Resort, dinner for two at Nikkei Restaurant, Melia Nassau Beach Resort, a gift certificate for a business plan by Seaview Management Services, and a painting by Anthony "Big Mo" Morley.
Other raffle prize winners included: Ingrid Sears, Leah Klonaris, Heather Hazarian, Paulette Krick, Brian Krick, Eddie Newbold and James Owen.
The top auction items were: the round trip ticket for two on Sky Bahamas coupled with a 2 night stay at Emerald Bay, and a 5 night stay at Resorts World Bimini. Dwight Tinker and Reginald Neymour won these top auction items.
The Salus Project, with significant art, also had wonderful pieces, that were sold; 50 % of the proceeds raised were donated to the Heart Foundation.
"The 51st Annual Heart Ball was a great success, and we are grateful to all who helped to make it one," said Ingrid Sears, PR Officer for the Heart Ball Committee. "We would like to say a special "thank you" to our patrons, sponsors, donors and all who helped to make this event a great success. It is our hope and prayer that you will continue to lend your support, as it makes a difference in saving a life."
Ms. Sears went on to say, "We recognize that many persons were unable to attend the event. As such, we would like to encourage those individuals to make donations to the Heart Foundation. As a non-profit entity, we rely heavily upon the generosity of others to help to repair the hearts of children. We accept donations throughout the year and no amount is ever too small. Every penny does count. Additionally, we'd like to encourage the public to support the remaining events that will be held throughout Heart Month – February."
The 51st Annual Heart Ball was sponsored in part by: Cable Bahamas, Burns House, John Bull, British Airways, Going Places Travel, Bahamasair, BTC, John Bull, G & M Appliances, ZNS, RBC, The Salus Project, Pictet Bank, Scotiabank, J S Johnson Insurance, Symonne's Basket of Happiness, TheBahamasweekly.com, Sandal's, AML, The Bahamian Brewery, Platinum Bride Couture, Young's Wines and Champagnes, The Bahamas weekly.com, Bahamaislandsinfo.com, More 94 FM, Island FM, The Nassau Guardian, The Tribune, Barefoot Marketing, More 94 FM, Island FM, Star 106, Bahamaislandsinfo.com, MMD Concepts and One Source @ BBSL.
The Annual Heart Ball is the major fundraiser to aid the Sir Victor Sassoon (Bahamas) Heart Foundation. The Heart Foundation is a non-profit entity, established in 1961, that helps to repair the hearts of children, who can not ordinarily afford heart care. T o make donations or find out more about the Heart Foundation, you can call 327-0806 or e-mail sassoonheart@gmail.com