Bahamians on Capitol Hill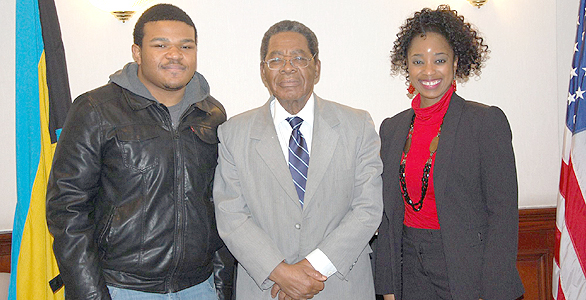 WASHINGTON, D.C. — Stanley Miller, a 20-year-old Bahamian student at Georgia Southern University in Statesboro, Georgia, is getting the experience of a lifetime that most certainly will be helpful in his future career as journalist through an internship at the U.S. House of Representatives.
Mr. Miller, who transferred from the College of The Bahamas to Georgia Southern last August, is an intern in the office of Democratic Congressman David Scott, who has represented Georgia's 13th congressional district since 2003. The district includes the southern fourth of Atlanta, as well as several of its suburbs to the south and west.
Congressman Scott serves on the House Agriculture Committee and is the Ranking Member on the Subcommittee on Commodity Exchanges, Energy, and Credit.
He is also a Member on the Subcommittee on General Farm Commodities and Risk Management and the Financial Services Committee, serving as a Member of the Subcommittee on Capital Markets and Government Sponsored Enterprises.
A 2012 graduate of Faith Temple High School in Nassau, Mr. Miller's internship on Capitol Hill is from January to May. He is a sophomore at Georgia Southern, majoring in Journalism and Public Relations, and is the son of Alex Miller and Marilyn Miller of Nassau.
On Friday, February 13, 2013, Mr. Scott discussed his internship experience with His Excellency Dr. Eugene Newry, Bahamas Ambassador to the United States, during a courtesy call on the Ambassador at the Embassy of The Bahamas, 2220 Massachusetts Avenue, N.W.