POLICE ANTI-CRIME OPERATION YIELDING MORE SUCCESS, 1 FIREARM SEIZED AND 14 ARRESTED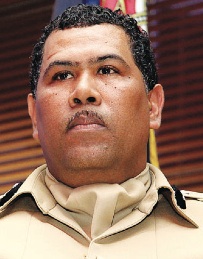 Nassau, Bahamas – Police are reporting more success under their anti-crime operation – aimed at crime prevention and arresting persons involved in criminal activities.During last night's operation, police arrested a 45 – year old man in the Kemp Road area after finding a handgun along with 16 rounds of ammunition during in his possession.
Additionally, 13 other suspects were arrested reference to a number of criminal offences to include, possession of dangerous drugs with intent to supply and outstanding court warrants.The operation, which is consistent with the Commissioner's 2015 Policing Priorities, was under the command of Chief Superintendent Clayton Fernander.
POLICE SEEK PUBLIC'S HELP IN SOLVING AN ARM ROBBERY
POLICE are seeking the public's help in solving an armed robbery that occurred on Friday 13th February 2015. According to reports, shortly after 9:00pm, a man was standing in front of his residence located at Murpyville Road, when two males armed with handgun robbed him of a cell phone and cash before speeding off in a green jeep.
Investigations are ongoing.
POLICE SEIZE TWO FIREARMS
In the first incident, shortly after 2:30pm on Friday 13th January 2015, officers from the Mobile Divisionacting on intelligence went to a bushy area located at Pinewood Gardens, where they uncovered a handgun along with two live rounds of ammunition.
In the second incident, shortly after 8:00pm on Friday 13th January 2015, officers from the Drug Enforcement Unit along with officers from the Internal Security Division acting on intelligence went to a bushy area located in Pinewood Gardens, where they uncovered a shotgun.No arrests were made in these two incidents.
12 ARRESTED AND 2 STOLEN VEHICLES RECOVERED DURING SOUTHWESTERN DIVISION OPERATION
Consistent with the Commissioner's Policing Priorities for 2015, Southwestern Division officers conducted an operation in the division on Friday 13th February 2015 that targeted persons wanted for various criminal offences.
During the operation 2 vehicles suspected of being stolen were recovered and two persons were arrested and taken into custody.
A total of other 12 persons were arrested for various offences such as housebreaking, stealing and breach of the Immigration Act.The operation was under the command of Superintendent Matthew Edgecombe.
Police are appealing to anyone with information regarding any crime, no matter how small or insignificant (the tip) may seem, to anonymously call Police at 919 or CRIME STOPPERS at 328-TIPS (8477) (New Providence) or 1-242-300-8476 (Family Islands).