Rollins says he ain't kissing no more ass! He nasty eh!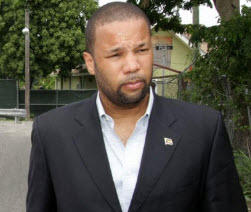 Nassau, Bahamas — If you read the Nassau Guardian interview yesterday with Andre 'Ass Licker' Rollins  you must wonder what kind a shit goes down in getting a nomination in these political parties.
Fort Charlotte MP,  Rollins suggested that he ain't kissing no more ass to secure a PLP nomination in upcoming General Elections – He said he tired kissing ass [especially the young boy own in Yellow Elder near the basketball court].
Rollins, yinner would remember, came through the backdoor of the PLP, and was nominated despite BP's violent online protest to his nomination before the 2012 elections.
Make no mistake – we at Bahamas Press never welcomed 'Ass Licker' Rollins to the PLP. We saw him as a brainless wonder from day one; void of ideas! He is a Bruce Jenner disciple who a mother once complained to the police about – yeah the media hid that one from yall!
But after getting sacked as Government WHIP and Chairman of the Gaming Board, and especially after funds went unaccounted for in that place, all of a sudden 'Ass Licker' Rollins has words for the Christie Government in the WUTLESS DUTTY PRESS!
Here's what Rollins said, "If your PLP nomination only goes to boot lickers, If your PLP nomination only goes to butt kissers you can keep that nomination…"
Which goes back to our question: Whose ass did Rollins KISS and LICK in 2012 to secure him the nomination in Fort Charlotte? And if ya ask us we believe 'Ass Licker' Rolins still sucking ass but its just not in the PLP this time.
Stay Tuned!
We report yinner decide!