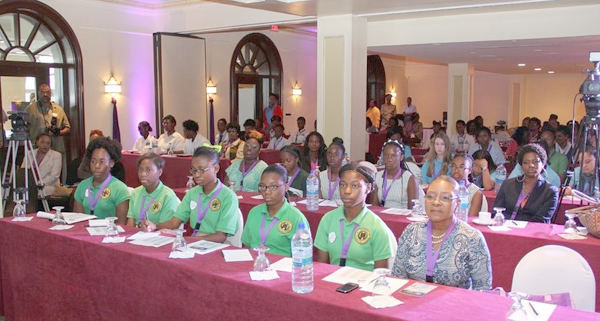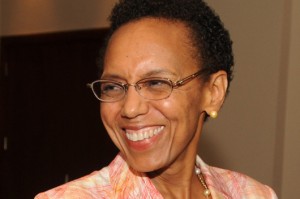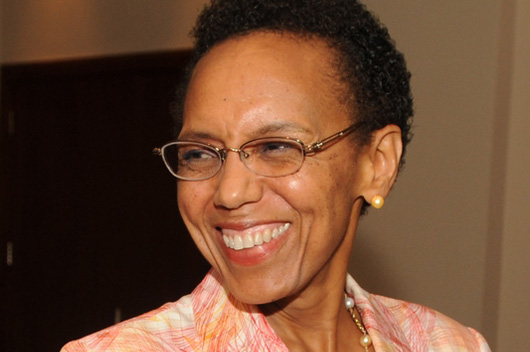 By Llonella Gilbert
Bahamas Information Services
NASSAU, Bahamas — Attorney General and Minister of Legal Affairs the Hon. Allyson Maynard Gibson, QC, encouraged female students attending the International Girls in Information and Communication Technologies (ICT) Day Forum and Mini-Fair to get into ICT to find lucrative careers.
The Attorney General explained that the International Telecommunication Union (ITU) reported that there is a "chronic decline in the number of female Information and Communication Technologies (ICT) students, which is in turn contributing to a predicted global shortfall of at least two million ICT jobs which will not be able to be filled through lack of qualified staff."
"While The Bahamas workforce may be predominantly female in general, with more females holding traditional jobs in the ICT sector, there is a gender gap in the number of females involved in STEM (science, technology, engineering and mathematics) subjects generally as compared to their male counterparts."
Mrs. Maynard-Gibson added that, "There are also not enough females who are even aware of the many varied opportunities in the sector or how they can apply those skills to just about any career field being considered."
The Utilities Regulation and Competition Authority (URCA), Cable Bahamas and Bahamas Telecommunications Corporation (BTC) and other sector licensees facilitated the one-day Girls ICT Day Forum and Mini-Fair at the British Colonial Hilton, Thursday, April 23.
The purpose of the event was to equip young girls with knowledge about the ICT sector and to inspire in them the confidence that the sector can be for them, as well as to expose them to a myriad of career opportunities.
Every year on the fourth Thursday in April, the ITU and the global technology community celebrate 'International Girls in ICT Day' an awareness-raising initiative designed to promote tech careers and studies to a new generation of girls and young women encouraging them to become ICT creators.
Mrs. Maynard-Gibson said the Government through its published 2014 Electronic Sector Policy, has key objectives for the sector.
The Attorney General said one of the objectives is providing a specified basic level of electronic communications services to all populated areas at affordable prices, and free of charge to certain institutions of key and educational importance.
Another objective is to ensure key institutions in the public and private sector have access to domestic and international electronic communications, capable of withstanding natural disasters, and which support the essential governance, social and economic institutions.
Other objectives include ensuring the availability of reliable and reasonably priced broadband internet access to residents and visitors and ensuring the use of ICT in the delivery of health, education, and government services, which is essential in an archipelagic nation.
Mrs. Maynard-Gibson told the students present that the ICT sector is no longer a small unit in the corner of an office with a computer manned by one person.
"It is a vibrant industry requiring skilled personnel such as software engineers, computer programmers and coders, structural engineers, civil engineers, game and animation developers, mobile app developers and digital video producers and digital artists."
She said the Government is committed to the further development of the sector and has already commenced a number of bold initiatives to achieve its sector policy objectives.
"These include a commitment to the liberalisation of markets within the electronic communications sector.  You will see shortly the full realisation of this in the cellular mobile market."
The Attorney General reiterated the announcement made by Prime Minister the Rt. Hon. Perry Christie in the House of Assembly in February 2015 that the successful company to obtain the country's second mobile network provider license should be announced sometime in May 2015.
She also noted that the ICT curriculum in Bahamian schools is currently under review to ensure that what is offered locally to students is in keeping with the global approach to ICT.  "In our schools we will also have to consider integrating basic coding skills into the computer programming curricula, alongside basics like reading, writing and arithmetic," the Attorney General Maynard-Gibson said.