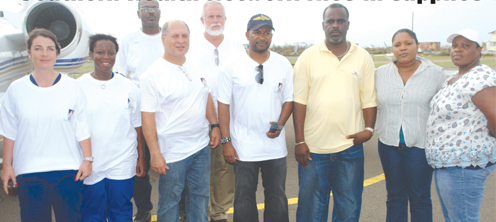 PROVIDENCIALES, Turks and Caicos Islands — Delroy Howell, a Jamaican national who has business interests in the Turks and Caicos Islands (TCI), USA, Jamaica, the Bahamas and the Cayman islands, is now before the court in Jamaica for allegedly manipulating a TCI-based trust fund that included assets of approximately $14 million dollars.
The TCI-based fund, known as First Financial Caribbean Trust Co. Ltd, was reportedly formed in 2001 and Howell served as chairman.
Howell was also the principal of Southern Health Network (SHN), a firm that was reportedly set up to service South Florida health care billings during the Michael Misick-led government in the TCI.
It was reported that Howell set up the Cayman Islands-based firm, which had offices in the Doral area of Miami, at the request of Misick's deputy premier, Floyd Hall, also the finance minister of the TCI at that time.
Reportedly Hall was introduced to Howell by Galmo Williams, who later inherited the premiership after Misick resigned. Williams served as premier for only a few months in 2008 until direct rule by Britain overturned the internal government.
Now Howell and business partner and trust company director Kenarthur Mitchell, also a Jamaican, have been summoned to court in Jamaica to answer claims that they have manipulated the assets of the TCI-based trust fund for their own benefit. Howell and Mitchell stepped down earlier this year from their positions as directors of the trust company.
It is claimed that partners Howell and Mitchell transferred the trust company's assets to their personal accounts and used the funds to purchase real estate in Jamaica and the Bahamas.
It appears that Howell's assets, which are located in several jurisdictions, have been frozen. This order was due to be revisited by the Jamaican court and possibly extended.
It is unknown if these proceedings are connected to the investigations led by the Helen Garlick team which had recently obtained under court order(s) a quantity of financial records from banks and other financial institutions. It has been reported that the Garlick team is active in several jurisdictions
SHN replaced a Canadian firm, which negotiated the TCI patient bills with the South Florida health care providers then took a commission on the transactions. Allegedly SHN changed this procedure, paying the bills then charging the TCI for each transaction.
Under SHN, overseas TCI health costs tripled and many providers complained that they were not being paid. The British Interim Government cancelled the contract. At the time of cancellation, SHN claimed the TCI government owed $16 million in unpaid billings. Governor Gordon Wetherell made it known publicly his government had no intention of paying that amount.