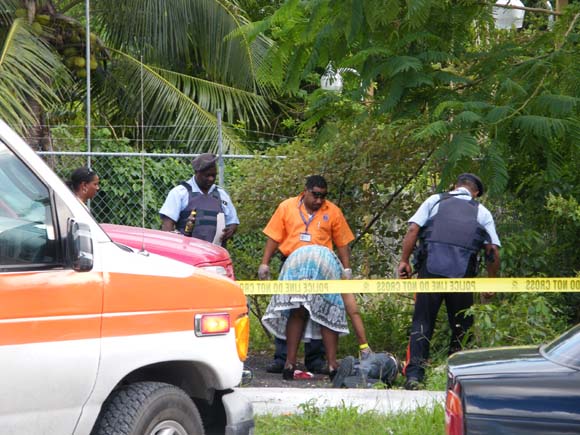 Nassau, Bahamas — Bahamas Press is reporting a robbery in the Fire Trail Road west area, which has left another man a victim of murder.
The young man believed to be in has late 30s could be seen lying face down with a bullet wound to the head. His body laid near the hood in front of a red Ford Explorer jeep.
The incident occurred just minutes ago around 5:20pm this afternoon, and gathered a team of officers from the Royal Bahamas Police and EMS services to the area.
When we reached to the scene, family members and friends of the victim had already gathered.
Early reports tell us the victim managed a liquor store in the area, which was held up by bandits. It is then reported a gunman opened fire on the store operator.
When police arrived to the scene, the deceased laid motionless wearing blue jeans pants and an orange and black shirt. Friends know the victim as Rasta. Police are now underway opening their investigations.
This is Murder #164th since 2009.