Boyz Bahamas camp cut short – Here's the story none in the WUTLESS MEDIA WOULD REPORT!!!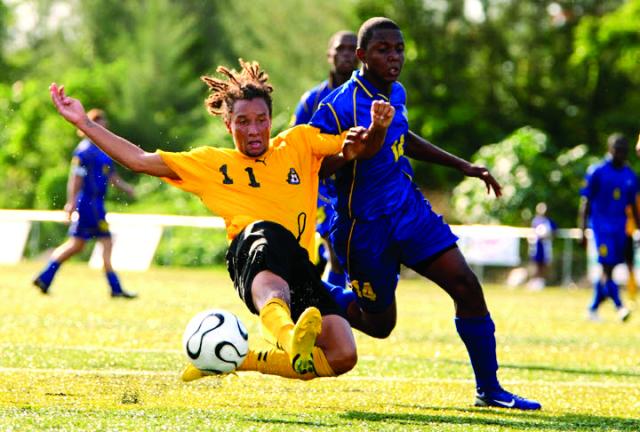 Bahamian Team could not get its act together – WHAT IN THE HELL IS DIS?
CABLE BEACH, Bahamas — Jamaica's Reggae Boyz will be returning home sooner than planned, president of the Jamaica Football Federation (JFF) Captain Horace Burrell said Friday.
The Boyz were due to have stayed on in the Bahamas after Thursday night's 0-0 draw with English outfit Tottenham Hotspur for a training camp and a match against the Bahamas national team, but will now return home on Sunday — seven days earlier than the planned return date.
The decision, according to Burrell, came after the Bahamas Football Association could not guarantee that they would have team together in time for the match as most of their players who attend colleges in the USA would not be available for the proposed encounter.
"The decision was based on technical reasons as the Bahamians don't have their team in training as some youngsters who are in college will not be able to make it, hence we have decided to go back home and use the facilities there and to blend everybody there," Burrell said Friday, prior  to departing The Bahamas.
European and USA-based players who were set to join the backend of the camp here and who were scheduled to arrive in time for the Bahamas match will instead join the group in Jamaica where they will continue their World Cup qualifying preparation, Burrell said.
Since arriving in the Bahamas, the Boyz have not been able to get in valuable practice as they were not afforded a suitable training field, plus they did not get a chance to train at the Thomas A Robinson National Stadium ahead of their match against Tottenham Hotspur, due to a waterlogged field caused by heavy and persistent rain.
Jamaica are due to host back-to-back CONCACAF World Cup qualifying matches against Mexico on June 4 and the USA three days later at the National Stadium.
— Sean Williams
Read more: http://www.jamaicaobserver.com/latestnews/Boyz-Bahamas-camp-cut-short#ixzz2UGucebXj