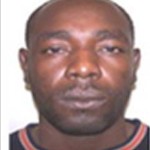 <<< David St. Remy, captured in the US.

MIAMI, FL — Bahamas Press has made requests to police on many occasions. Back and forth we have requested information from them to tell us what they know about crimes occurring in The Bahamas. However, our requests have fallen on deaf ears. Members of the Royal Bahamas Police Force have a problem with our sharp accurate contacts in the US and around the region. BP broke the story that Andre Birbal was captured in New York. We informed the public on Carl Bethel's son, who raped a young girl at the once prestigious Queen's College. Yes we break news and today is no exception. Our contacts are vast, and all we say to the police is this, if you need help, contact us. If they want to solve crimes,  send us information [e.g. WANTED NOTICES] and we will dig into our resources. But the public will soon discover, that there are those in this society who HATE TRUTH!
Bahamas Press has learned from contact in New York that a 35-year-old Bahamian national, listed as one of the nine 'most wanted' fugitives by The Bahamas government, has been captured in Miami.
U.S. Immigration and Customs Enforcement special agents and Broward County Sheriff`s Office detectives  nabbed David St. Remy, who is wanted for murder in The Bahamas.
ICE agents and BSO detectives also arrested Kervin Occean, 28. St. Remy and Occean were identified as illegal re-entries after deportation from The Bahamas. Both men were residing in the South Florida area.
ICE special agents recovered one AK-47 rifle, one M-16 rifle, a handgun, approximately 1/3 kilogram of cocaine, and approximately $2,000 in cash at a Miami Shores residence where St. Remy was living.
He, along with another Bahamian national arrested at the same time, face federal criminal charges for having illegally re-entered the United States after having been deported.
"I`m proud of the hard work and diligence of our special agents for tracking down and apprehending these criminals," said Anthony Mangione, special agent in charge of the ICE Office of Investigations in Miami.
"Apprehending dangerous foreign fugitives hiding in the United States is a top priority of ICE and now, not only has this illegal alien been removed from the streets of South Florida, but he will eventually be removed from the United States to face justice in The Bahamas."
St. Remy and Occean face federal criminal charges of illegally re-entering the United States after having been deported and face up to 20 years in prison, if convicted. The ICE investigation confirmed that the career criminal St. Remy, a convicted felon, was previously removed from the United States in May 2003 and Occean, also a convicted felon, was removed in July 2000.