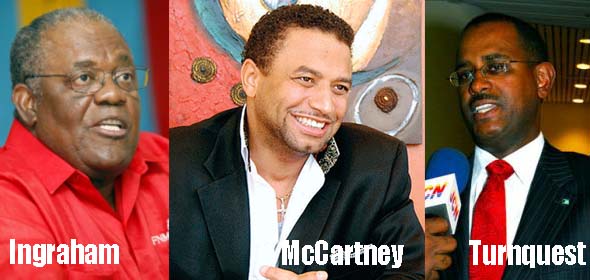 A BREAKING NEWS
BP NEWS ALERT: Prime Minister Hubert Ingraham informed the Parliament this morning of his intent to reduce Parliamentary seats to 38.
Papa is proposing to cut the seats by three. Sources tell us, Ingraham plans to axe the Bamboo Town seat in his cuts in an attempt to remove DNA leader, Branville McCartney, from the Parliament.
Bamboo Town will fall under the hammer and heavy hand of Ingraham. Papa is now directing his unfettered authority and flexing to show Branville who is man.
Sources also tell us the seats to fall will also include Clifton and Elizabeth.
Bahamas Press appeals to Branville to once again GO SEE CHRISTIE and avoid Papa's 'VICKED' UNCHRISTIAN SCHEMES! The DNA will be short lived as Ingraham intends to proverbially bury its leader.
Ingraham is reported to have told close friends, "I am about to chop off the head of the snake and the body cannot survive."
McCartney is expected to speak in the Parliament late this afternoon following the luncheon break.