Another shot multiple times in Exuma last night dies…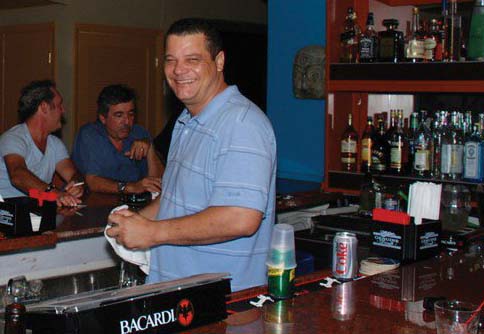 Nassau, Bahamas — Operator of the famous "Keith Chicken Shack" and bartender at the Barbalu night club on West Bay Street, Brian Keith Aranha has been shot in a near fatal attack and home invasion on Fleming Street just after 3pm this afternoon.
Bahamas Press teams now at hospital are investigating the crime where we can report that two masked gunmen walked into the home of the operator and opened fire on him hitting him twice.
The gunmen took nothing out of the home nor did they demand anything.
BP team can tell you Aranha is listed in serious but stable condition. An appeal has already been issued by the hospital for blood. "He has lost a lot of blood following this very tragic ordeal. We are calling on the public to lend their support in prayers and whomever can give blood to do so as quickly as possible," a member of the family told BP.
Brian, along with his former business partner, Kurt Melnechuk, once ran the ZOO nightclub on Saunders Beach.
BP wants to advise our ground team that we will now cancel our visit to the world famous Keith's Chicken Shack tonight as security is now our concern in the area. "Princess, we ga see you next week!"
We report yinner decide.
Exuma man shot fatally on the island last night…
A BP NEWS UPDATE >>>> Bahamas Press is reporting another drug relatedmurder in Exuma last night where the 23-year-old victim was shotmultiple times at his home along with another male friend. BP reportslast night gunmen entered the home and opened fire on the victim athis Roker's Point home. He was pronounced dead by the island doctor.
POLICE SEEK PUBLIC'S ASSISTANCE IN SOLVING HOMICIDE IN EXUMA
Police are requesting the public's assistance in solving a shooting incident in Exuma that has left a 23–year-old man dead on Tuesday
18th February 2014.
According to reports, shortly after 10:30pm Police in Exuma received a report that a man had just been shot at his home located at Rokers
Point, Exuma. Police on arrival at the scene met the lifeless body of a man with multiple gunshot wounds to the body. Preliminary
information indicates that the victim was at home along with another man, when two men entered their residence. Shortly thereafter the deceased was shot multiple times about the body. The two assailants then fled the scene on foot. The island's local doctor pronounced the man dead at the scene.
An adult male from Exuma is in custody assisting police with investigations into this incident.
A team of Homicide Investigators from the Central Detective Unit in New Providence is on their way to Exuma to assist with the
investigations.