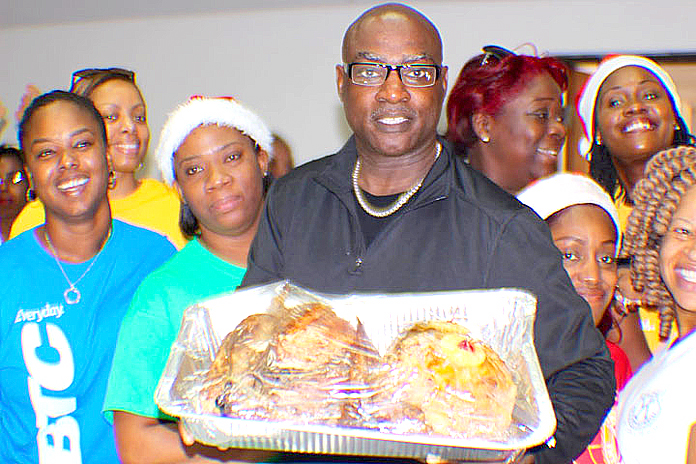 Nassau, Bahamas – Christmas is considered as the time for giving and the Kiwanis Clubs of The Bahamas decided to give those less fortunate in a real and tangible way, by providing a Christmas meal for more than 80 families.
The Give Love on Christmas Day event, in its fourth year is the signature project of the Kiwanis Club of Nassau A.M. The project ensures a family who may not ordinarily enjoy a meal, inclusive of all the fixings such as ham, turkey, peas n rice, corn, a desert, fruits and a drink- get enough to feed eight to 10 people. This is something that continues to grow every year.
Kiwanians and volunteers, assembled at the Red Cross on John F Kennedy Drive, where once the food arrived, hot and ready it was distributed to identified families.
The Bahamas Telecommunications Company also supported the project.
BTC's Senior Vice President for Customer Operations, Patricia Walters highlighted that through the company's robust I-Volunteer program, employees took time out to participate in the project and provide a meal for a selected family, as well.
Walters said, BTC is not just about business, but is well aware of its corporate social responsibility.
"I think in life you have to have a purpose and if more people gave back, I think the world would be a better place," said Walters.
Chairman of the project Barry Wilmott said Kiwanians do their best to live by the objects of Kiwanis, which places prominence on giving primacy to the human and spiritual, rather than the material values of life. The project, he said, is one that does just that.
For him, it gets easier every year organizing the project. At the end of the day, he said, bringing joy to people on Christmas Day, gives him the motivation and inspiration to find ways of expanding the project.
But, the Kiwanis effort did not end there, as the Lt. Governor of The Bahamas Division 22, Alfred Poitier, traveled to Grand Bahamas on Boxing Day where for the last 40 years the Kiwanis Club of Eight Mile Rock has provided Christmas lunch for the elderly. In addition to lunch, each participant was presented with a grocery bag filled with breadbasket items.
The Lt. Governor said he was overwhelmed by the efforts of the Kiwanis membership's dedication to service and their commitment to being their brother's keeper. "I am elated to say that we are working as a cohesive group to improve lives and build better communities," he said.