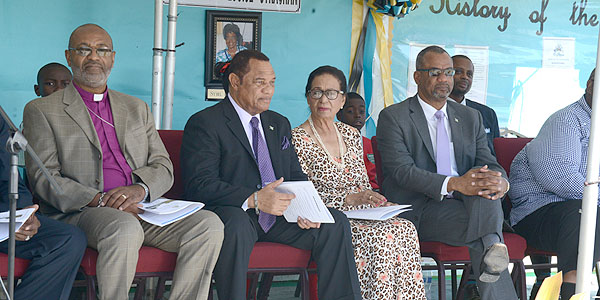 By Betty Vedrine
Bahamas Information Services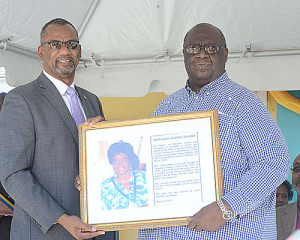 NASSAU, The Bahamas – After four decades of bearing the name, 'Carmichael Primary,' the school has been renamed. The school has been christened bearing the name of Sybil Strachan, an educator who dedicated her life to shaping the minds of Bahamian students for over six decades.
A ceremony commemorating the new name change was held on the school campus on Monday, March 9. In attendance were Governor General Her Excellency Dame Marguerite Pindling and Prime Minister the Rt. Hon. Perry G. Christie, who officially renamed the school.
During his remarks, Prime Minister Christie lauded Mrs. Strachan's work in the education field: "We owe a great debt of gratitude to women in the field of education such as Mrs. Strachan who entered the teaching profession and helped to mould many lives for the betterment of our country," said Mr. Christie. "It is this kind of leadership given by individuals like Mrs. Strachan, which the Government of The Bahamas seeks to reward and recognize with the naming of public buildings in their honour. This prestigious recognition is all about preserving our history."
Minister of Education, Science and Technology, the Hon. Jerome Fitzgerald said that the contributions made by Mrs. Strachan, have benefited thousands of Bahamians: "The contributions that Mrs. Strachan made to our education system have resulted in the cultivation of many productive and progressive citizens in our country," said Mr. Fitzgerald. " Her tireless efforts at a pivotal time in our nation's development deem her most worthy to be honoured in such as way as is being done. She will be remembered as a legend of her time."
Also in attendance was the Member of Parliament for the Golden Isles constituency, the Hon. D. Shane Gibson who said that he was very proud that the only school in his district was receiving such an honour.
Mrs. Sybil Strachan (nee Coakley) was born in Fresh Creek, Andros on September 2, l927.  Her teaching career began at the age of seventeen when she was posted at the Quarry Mission School where she remained for six years. In 1951, she relocated to Southern Preparatory. In 1954, she transferred to Naomi Blatch Primary School, where she taught for nineteen years. She became the Principal of Carmichael Primary in l973 and served there for seventeen years and then went on to become the Principal of Claridge Primary school, serving there from l990 until her retirement in l993 after forty-eight years in the field of education.
Mrs. Strachan and her husband Courtney had five children. She died on May 18, 2010.
Carmichael Primary School was established in l969 at Mount Sinai Baptist Church on Carmichael Road. At the time, the school had an enrollment of 30 students and served students in the communities of South Beach and Blue Hills. As time progressed and enrollment grew, a new building was erected on Golden Isles Road to accommodate the increased population of 200 students. Ten years later, the school had to be relocated again and in 1980 the school was moved to its present location.  Today, the school has an enrollment of over 900 students.
The original name of the school, Carmichael Primary, was to honour former Governor Sir James Carmichael Smyth.
PHOTO CAPTIONS
Prime Minister the Right Hon. Perry G. Christie, second left, officially renamed Carmichael Primary School the 'Sybil Strachan Primary School.' The event was held on the school campus on Monday, March 9. Also pictured L-R are: Bishop of the Anglican Diocese of The Bahamas and Turks & Caicos Islands, the Rt. Reverend Laish Z. Boyd Sr.; Governor General Her Excellency Dame Marguerite Pindling; and Minister of Education, Science & Technology, the Hon. Jerome Fitzgerald.  (BIS Photo/Peter Ramsay)
Minister of Education, Science & Technology the Hon. Jerome Fitzgerald presents Mr. Courtney Strachan Jr. (son of the school's patron, Mrs. Sybil Strachan), with a portrait of his mother.  (BIS Photo/Peter Ramsay)