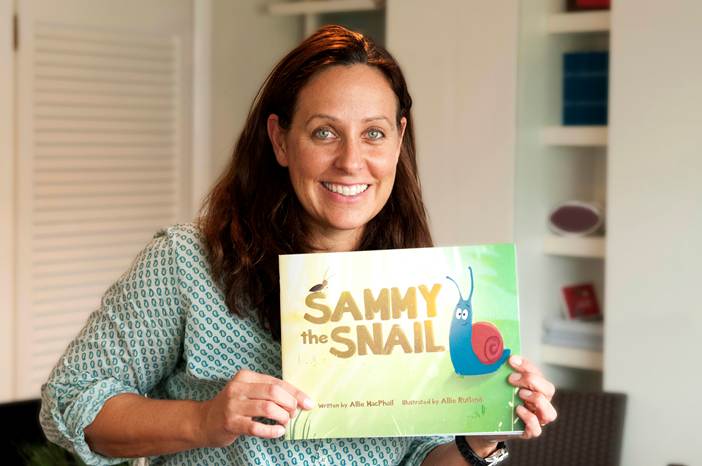 Family therapist Allie MacPhail will autograph her just-released work, a children's book titled 'Sammy the Snail', during McHappy Hour at McDonald's on Marlborough Street January 30.
"McDonald's is proud to make this book-signing event possible as part of our ongoing commitment to children, but even more importantly, we want to get the book into as many hands as possible," said Earla Bethel, President of DanBrad Ltd., franchisee for the popular restaurants in New Providence. "We know that there are a lot of kids who are hurting — kids and kids at heart. Rather than confront our fears, we hide them. Often, those unresolved fears become unraveled in behaviours that either hurt ourselves or hurt others. It is our hope that this book will launch a paradigm shift in how we begin to change our society for the better, forever."
Sammy the Snail is the story of a lifelike talking snail who, following a tragedy, begins to hide his emotions in his shell, making it harder and harder for him to get around. When a new snail moves to town, Sammy learns a different way to better handle the emotions that are literally and figuratively weighing him down. Slowly, he comes to see the beauty in his own story. Unburdened, he is light-hearted and life is good once again.
"We were so taken by the moral of the story and its beautiful illustrations that we wanted to create an opportunity to make the book widely available," said Mrs. Bethel.
'Sammy the Snail' is illustrated by Allie Rutland.
Author Allie MacPhail, a marriage and family therapist at Caribbean Centre for Child Development in Nassau, said inspiration for the story grew out of a 15-year career watching young patients rediscover the happiness hiding deep within when they opened up about their emotions. But, she said, the breakthrough that children make when they open up cannot fall on deaf ears. It's equally important for parents to listen to what the child is revealing.
The book is illustrated by Allie Rutland.
Every child McHappily packed into a booth from 3:30 to 4:30 pm at the downtown McDonald's across from the British Colonial Hilton will receive a signed copy at the McHappy Hour. McDonald's hosts McHappy Hours every Thursday, alternating between locations at Palmdale, Oakes Field and downtown. Last month, a McHappy Hour on Marlborough Street featured a book signing by artist Jessica Colebrooke whose hand-painted tile art lends a distinctive Bahamian flair to the fast food restaurants that serve up Happy meals and hearty smiles on a regular basis.