The Cabinet Minister, who was given Crown Land by Ingraham in his last term, is now a threat deep within Christie Government!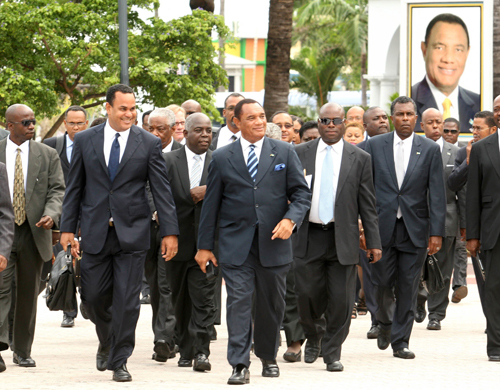 Christie should order Davis to throw that Minister out of the window from the balcony of the Churchill Building!
Nassau, Bahamas — Prime Minister Rt. Hon. Perry Christie and wife Bernadette are in London today getting ready to seal another mega deal for Bahamians.

Bahamas Press is also in London, eating, drinking, and dining at the Savoy this morning. We can confirm the PM is meeting with the largest developers to date which are set to turn around the Grand Bahamian economy for the better and put Bahamians who have been unemployed for years back to work.
We can report the project will be huge – so huge that it could seal another five-year term for Perry Christie and could leave a lasting legacy for the Prime Minister.
And certainly Bahamians are already feeling the turning of that economic corner, especially after S&P gave a stable report on the country. New projects lined up in Nassau, Abaco, Bimini, San Salvador, Exuma and soon to be announced Grand Bahama prove that the Christie Government is moving the country forward and is indeed taking the Bahamas in the right direction.
But what BP can report this morning is bringing concern to our newsroom.
We can confirm a man deep inside the Christie Cabinet is now reporting details of the Government to former Prime Minister Hubert Ingraham, who is seeking a comeback to carry Bahamians backwards.
Everyone remembers, including FNMs, how Ingraham brought not one single development to the country. They cannot forget how Ingraham delivered unemployment in the double digits. They remember how Ingraham destroyed business after business on a botched road management plan, which had to be quickly resolved by Christie's key Viceroy and trusted strongman Philip Brave Davis.
Bahamians remember how Ingraham then jumped ship on the FNM and went into hiding. What a lowlife!
But now that he believes Bahamians have forgotten his dastardly failures and shameless records, he is meeting with generals in Abaco to plot his way forward. Ingraham, we are told, the man who could not deliver decent roads to Abaco residents, is drumming up support against the expansion project now happening under Christie in Treasure Cay. We have been advised, he has met twice with generals in the area and is plotting hard.
What is also of concern to BP now is that a member of the Christie Cabinet is making confessional visits to the former Prime Minister, someone who we are told is the only member of the Christie Cabinet who was granted crown land during Ingraham's last term in office. The deal was struck in the shadow – and not one member of the banished FNM Cabinet knew. ["WHAT IS THIS UP IN DUMFRIES CHURCH – … boy, dogs don't bark at park cars].
The "plant" in the Cabinet Room is making regular calls and visits to Ingraham and is downloading key strategy plans to the ousted former FNM leader.
What in the hell is dis?
BP knows the "SNITCH 2.0" very well! We know "Snitch 2.0", whose seat is in New Providence, was never a PLP!
And although he sound like a PLP and walks like a PLP and is married to a PLP by birth – we know he is no PLP.
The MP once told hardcore supporters, "Get the hell from my office and don't bring me no job application forms."
Boy oh boy – what in the hell is this – Christie gat another SNITCH 2.0″!
We report yinner decide!