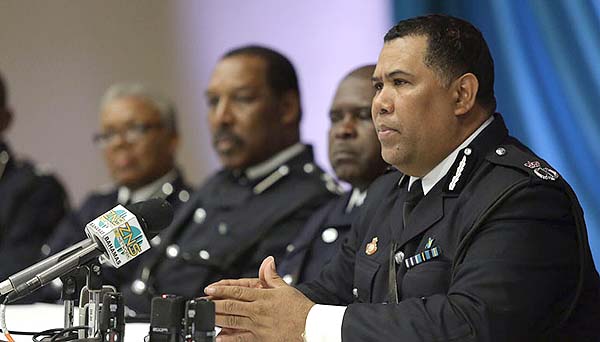 Nassau, Bahamas — We at Bahamas Press must retract a report of a police officer being charged for Gun and fire ammunition possession following a sting operation last week.
Actually the report should have read two Customs Officers and not a police officer was being charged before the courts on gun smuggling charges today in a magistrate court.
Police Commissioner Ellison Greenslade had announced last week how police seized 11 firearms and arrested 5 individuals during two separate intelligence led operations.
In the first operation, on Monday 8th June 2015, officers from the Firearms Tracing and Investigation Unit acting on intelligence were able seize three firearms along with 517 rounds of ammunition, which were recovered through a courier service.
Three men are in custody in connection with this seizure. Additional arrests are expected both here in the Bahamas and in another jurisdiction.
The second seizure took place shortly after 5:00pm on Tuesday 16th June 2015, following an operation conducted by officers from the Drug Enforcement Unit at a port of entry in New Providence. DEU officers were able to follow two suspects to a location, where they arrested them after uncovering 8 illegal firearms in their possession.