DPM Davis presents at the 2nd Annual Conference of Law and Ethics…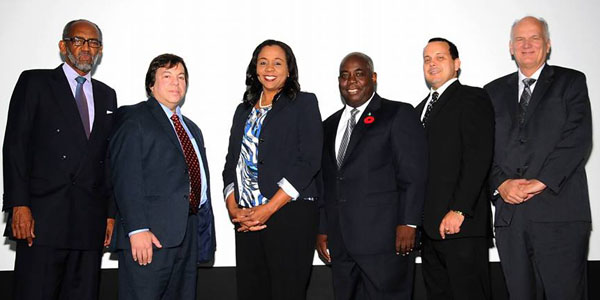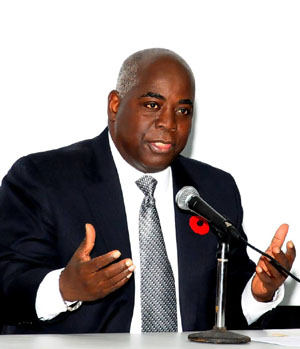 NASSAU, The Bahamas – Deputy Prime Minister and Minister of Works and Urban Development the Hon. Philip Davis cautioned LL.B Law Students of The College of The Bahamas (COB) to remember that their name precedes them and urged them to maintain the highest standards and ethics.
"After money, prestige and popularity leave, your name stands. Make it good," he stated.
"The road to this noble profession is not an easy one and the later sojourn is even more complex. It is, though, a rewarding profession; and as practitioners of the law you will be called to a very high standard."
Minister Davis presented opening remarks at the 2nd annual Conference on Ethics and Law Firm Management, November 6, 2015 in the Performing Arts Center at COB. The one-day event was organized by COB in conjunction with the Eugene Dupuch Law School on the theme "How to Choose and Work with Lawyers and Clients."
Mr. Davis recounted what he referred to as a "desert" experience prior to being admitted to article in the Chambers of Wallace Whitfield and Barnwell.
"There I learned the principles and practice of the profession. Mr. Barnwell, who took me under his wing, was an astute, well-rounded practitioner; and I have an abiding respect for him.
"By the time I was called to the Bar in 1975, I had sound research and drafting skills; and I had a wealth of experience attending court. Thereby, I could correlate theory with real life situations and see the reasoning for the Code of Ethics of the legal profession."
The Deputy Prime Minister explained that the question of ethics is bound to understanding conflicts of interest. He said, "There is a blurred line between the practice of law and the business of law. Practice should always trump business."
He advised the students to pay attention to practice as it is likely that they would be able to draw clear indications as to expected outcomes. "Notwithstanding, keep it to yourself and represent vigorously. Do all that you can within the realm of truth to ensure that your client's interests are properly served."
Questioned by a student as to what to do when faced with ethical dilemmas, Mr. Davis said, "If you have sufficient doubt as to whether or not what you are about to do is ethical, the best advice is leave it alone. That's where the practice of law is trumping the business of law."
He encouraged the students to find mentors who are in the profession to advise and guide them through challenges.
The students discussed the following topics: "Conflicts of Interest: Engagement Letters and the Art and of Billing," "Liability of Partners; Clients from Hell; How to Choose A Lawyer" and "How Ethics Can Be Taught and Learned."
Participants included: Dr. Peter Maynard, Head of Law Department, COB; Norman K. Clarke, Principal, Walker Clark LLC, Business Advisors and Counselors to the Legal Profession, Florida; Remelda Moxey, Dean, School of Business, COB; Steven M. Richman, Partner, Clark, Hill, New Jersey; Tara Archer, Partner, Higgs & Johnson; Colin Jupp, Senior Associate, Peter Maynard, Counsel & Attorneys; Bernadette Bain, COB; Patrick Wells, Senior Tutor, Eugene Dupuch Law School; Talia Sweeting, Director and Chief Financial Officer, Deloitte & Touche; Elsworth Johnson, President, Bahamas Bar Association; Dr. Earla Carey-Baines, Vice-President, COB; Genae Nottage, Associate, Peter Maynard, Counsel & Attorneys; Felix Beneby, Associate, Higgs and Johnson; Lisa Benjamin, COB; and Darnell Osborne, President, Bahamas Institute of Chartered Accountants.