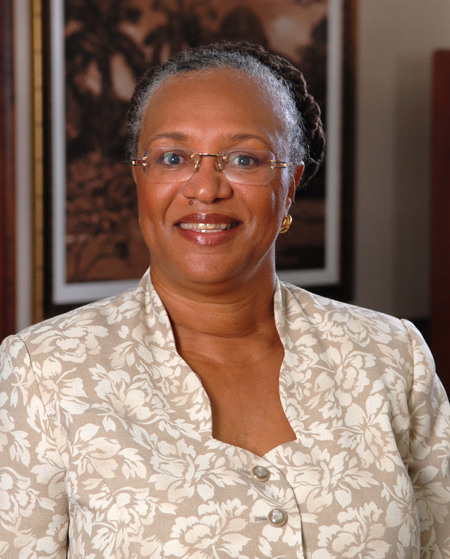 Nassau, Bahamas – The Council of The College of The Bahamas has appointed Dr. Earla Carey-Baines Acting President of The College of The Bahamas, effective January 1, 2014.  Dr. Carey-Baines will hold the position until a new President is appointed. A presidential search that will lead to the selection of the successful Bahamian candidate is currently underway.
Dr. Carey-Baines has more than 30 years' experience in education and higher education administration. She previously held the position of President of The College for an interim period, from July 1, 2010 to December 31st, 2010.
She joined The College as a faculty member in the English Department in 1988 and became Coordinator of the department in Fall 1997. From September 2000, to July 2004, Dr. Carey-Baines was Chair of the School of English Studies with responsibility for the School's long range planning, curriculum, programme evaluation and faculty performance assessment.
From January 2005 to June 2010, she served as Dean, Faculty of Liberal and Fine Arts with oversight for the Schools of Communication & Creative Arts and English Studies. She also held the Acting Dean responsibility for the School of Social Sciences. While serving in this capacity, she helped to develop the BA in Spanish programme, The College's first baccalaureate degree in a foreign language and collaborated with the Office of Research, Graduate Programmes and International Relations to expand student study abroad opportunities and faculty exchanges in non-English speaking countries.
Dr. Carey-Baines has served The College in a number of other capacities covering a range of interests including research, graduate programmes, quality assurance, faculty promotions, professional development and fundraising; and has presented scholarly papers in a number of areas including academic integrity, academic programmes and course development.
Before joining The College of The Bahamas, she held several senior administrative positions including General Manager of the Bahamas Union of Teachers [BUT] and Administrator of the Winton Child Care Centre from 1996-1997. She began her career in education as a teacher in the public education system in 1977. Her professional career outside of academia includes serving as Assistant Secretary General of the Commonwealth of The Bahamas Trade Union Congress and Assistant Secretary General of the Bahamas Union of Teachers.
Dr. Carey-Baines holds a Doctor of Philosophy degree with an interdisciplinary focus on English, Education and Sociology and Master of Arts degree in Composition and Rhetoric, both from Washington State University. She completed undergraduate studies at Concordia University in Montreal, Canada, where she earned a Bachelor of Arts degree in English Literature.
In 1997, she was honoured with The Distinguished Director's Award from Washington State University in 1997 and was a Fullbright scholar between 1992 and 1994.