A BP NEWS ALERT: CLICK TO WATCH: http://www.accuweather.com/video/90494793001/bilo-breakdown-can-hurricanes.asp
Nassau, Bahamas — BP
is reporti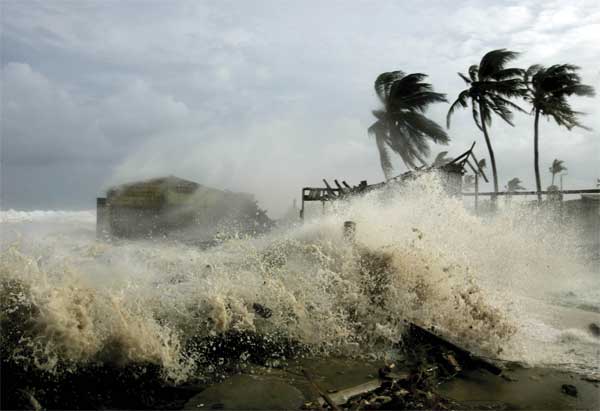 ng plans are underway to active NEMA as the Bahamas monitors Hurricane Earl. The weather system is projected to move nearby the country sometime by Tuesday. Earl has been upgraded as a Category 1 early this afternoon.
BP invites all local residents to get prepared. Click on BP's Weather Centre for all breaking updates at www.bahamaspress.com.
With Hurricane Earl's damaging winds and torrential rain set to slam the Leeward Islands tonight into Monday, residents should be rushing to complete preparations.
Earl strengthened into a Category 1 hurricane earlier this morning, the third hurricane of the season.
Strong winds high in the atmosphere (also known as wind shear) associated with Hurricane Danielle had been inhibiting Earl's ability to strengthen. That changed this morning as Danielle pushed farther away to the northeast.
Earl will continue to grow into a stronger Category 1 hurricane into tonight, curving slightly more to the northwest in the process.
That slight turn should spare the Leeward Islands from a direct hit by Hurricane Earl. However, Earl will pass close enough to unleash most of its fury on the islands.
The AccuWeather.com Hurricane Center is expected Earl to track within 50 miles of the northernmost Leeward Islands late tonight into Monday.
Conditions will continue to deteriorate across the Leeward Islands into this evening as Hurricane Earl approaches. Bands of rain squalls will become more frequent, and gusty winds will increase to tropical storm force this evening.
Damaging hurricane-force winds will blast the Leeward Islands late tonight into Monday. The strongest winds will whip over the northernmost islands.
The strength of the Earl's winds threaten to cause widespread tree damage and power outages. As the trees fall, additional structural damage and bodily harm may result.
Roof damage is the main concern to well-built homes, but poorly-constructed homes may be destroyed or severely damaged.
Earl's torrential rain bands will also spread over the Leeward Islands tonight into Monday. Several inches of rain will pour down, threatening to cause flooding.
Seas surrounding the islands will become dangerously rough into tonight with wave heights reaching 12 to 18 feet on north-facing coastal areas.
On Monday, wave heights will build along the northern shores of Puerto Rico. Earl, however, should pass far enough to the north that the island will escape hurricane-force winds.
The danger still exists for Earl's tropical storm-force winds and outer bands of heavy rain to graze the island.
Seas will then get stirred up along the coasts of Hispaniola and the Bahamas into midweek as Earl curves to the northwest, potentially becoming a major hurricane.
Later in the week is when Hurricane Earl threatens to come dangerously close to the East Coast of the United States.