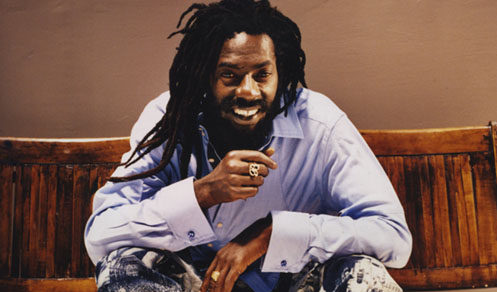 CaribWorldNews, TAMPA, FL, Fri. Sept. 24, 2010: `All Man Must Sow What They Reap,` he sings on his latest album. `I Have Been Accused And Wrongly Convicted. Jah Knows I Am Innocent.`
Innocence or guilt for Jamaican-born singer Buju Banton could be determined by jurors at his federal drug trial in a Tampa Court as early as today. Deliberations in the drug conspiracy trial began yesterday, September 22nd, so for now all Banton can do is pray to Jah and wait.
Banton, whose real name is Mark Myrie, faces up to life in prison if convicted in the case, which opened on Monday, September 20th.
On Wednesday, September 21st, the singer proclaimed his innocence of drug charges to jurors as he took the stand in his own defense.  Banton told jurors that while he talked a lot about drugs with U.S. government informant, Alexander Johnson, he is not a drug dealer. He testified that he met the informant on a plane last summer and he initiated their conversations about drugs.
Banton told the court that  he made up ambitions to deal cocaine to impress the informant, who he believed would introduce him to music industry contacts.
Addressing a video tape which U.S. federal prosecutors have presented as evidence that he is a drug dealer, Banton said he was surprised when the informant presented him with cocaine at a Sarasota warehouse in December, a meeting captured on video.
`I`m just a humble musician,` he said.
Prosecutors, however, say Banton discussed the ins and outs of drug smuggling with an informer and asked the informer to help him in other illegal endeavors.
U.S. Assistant Attorney James Preston said Banton was a middle man in a drug transaction in which an associate of Banton would buy five kilos of cocaine from an undercover police officer.
But Banton's defense attorney, David Markus, argued that while the singer talked with a government informer about drugs, he never went through with the deal. He added that his client was a victim of entrapment.
Banton, 37, is fighting charges of conspiring to distribute cocaine and aiding and abetting his co-defendants in possessing a firearm during the course of the cocaine distribution.
According to the federal indictment, Banton and an associate negotiated with an informant to buy the cocaine. Along with a third man, they allegedly met with an undercover officer in Sarasota in early December to buy the drugs. The informant told Drug Enforcement Administration agents that he also saw the singer inspecting the cocaine.
Ian Thomas, described by Banton`s manager as an old friend of the singer who resurfaced shortly before the arrest, pleaded guilty last Wednesday to conspiracy to posses with intent to distribute five kilograms or more of cocaine. He now faces up to life in prison
The third man, James Mack, has signed an affidavit stating that he never met Banton before his arrest, and that the singer did not know about the money or a gun that were in Mack`s car during the drug deal. Mack plans to plead guilty to the drug conspiracy charge and a weapons charge, according to a plea agreement. He also faces up to life in prison on each charge.
Meanwhile, one of the sons of late reggae legend Bob Marley on Wednesday took the stand as a character witness in the trial of Jamaican-born singer Buju Banton.
Stephen Marley told the court that he has known Banton for 20 years. He said the star, born Mark Myrie, is an acclaimed singer and `the voice of the people" who never talked about drugs.
The Grammy-winning Marley also called Banton `the voice of Jamaica,` noting that his music is ingrained in the nation`s culture.
Despite being imprisoned, Banton is set to release his tenth album titled `Before the Dawn,` next week. Banton had begun recording the album`s 10 songs last year in Kingston, Jamaica and worked in recent month with producers and engineers over the phone from his prison cell in Tampa.