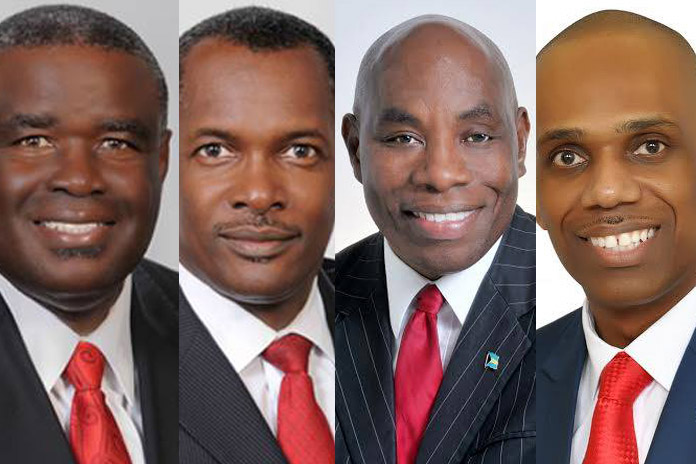 The Free National Movement (FNM), during a special called meeting of its Central Council last evening, ratified four (4) candidates to be its standard bearers t…o contest New Providence and Family Island Constituencies in the upcoming general election.
Attorney Desmond Bannister was ratified to represent the FNM in the Carmichael Constituency. A community and political activist of long standing, Mr. Bannister represented the Carmichael Constituency from 2007 to 2012. He also served The Bahamas in the office of Minister for Education and Culture and as Leader of Opposition business in the Senate.
An attorney for over twenty five years, he served as Crown Counsel in the office of the Attorney General from 1988 to 1991, and now serves as senior partner in The Law Partnership. A lifelong sporting enthusiast, Mr. Bannister served as President of The Bahamas Association of Athletic Associations. Mr. Bannister is married and is the father of two children.
Businessman Brensil Rolle will contest the Garden Hills Constituency. A resident of Garden Hills, he was born in Black Point, Exuma. An educator by profession, Mr. Rolle taught for over twenty-four (24) years in the public school system in New Providence and the Family Islands and served as Vice President of The Bahamas Union of Teachers. A former Controller of Road Traffic, Mr. Rolle served the good people of the Garden Hills Constituency as the FNM Representative from 2007 to 2012. He is married and is the father of two children.
Rev. Frederick McAlpine will be the standard bearer for the Grand Bahama constituency of Pineridge. His lifelong career of service to the Bahamian people spans the religious, political and legislative arenas, dedicating himself to the development of Bahamians from all walks of life. Mr. McAlpine attended the Freeport Anglican High School before going on to become the youngest ordained clergyman in The Bahamas at age 17, launching a career of religious and motivational service throughout the country, region and the world including the United States, Canada and Europe.
He served as a distinguished senator for the FNM from 2007 to 2012.
Reverend McAlpine currently serves as Senior Pastor of the Freeport Fellowship Center. He resides in Freeport, Grand Bahama, with his wife and three children.
Businessman Gadville McDonald, a new comer to front line politics will represent the FNM contesting the Cat Island, Rum Cay and San Salvador Constituency. A native of Bennett's Harbour, Cat Island, Mr. McDonald is an accountant by profession and owns and manages a successful business in New Providence. A community leader, he serves as chairman of Global Leadership Bahamas and is the lead pastor of Life Empowerment Church. An avid sportsman, he also served as the former President of the Sea Bees Swim Club. He is married and is the father of two children.
Party Leader Dr. Hubert Minnis said "I'm proud of the many talented Bahamians who are seeking to represent constituencies under the FNM banner. I call on all Bahamians to unite behind the leadership of the FNM to rid this country of the PLP and set it once again on a path to peace and prosperity."