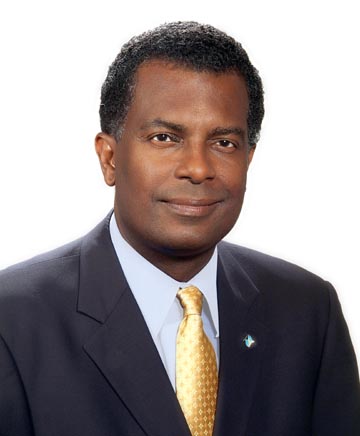 Fred Mitchell, MP
Nassau, Bahamas — Fox Hill Member of Parliament Fred Mitchell's name was entered into nomination for Leader of the PLP as a Fox Hill 'favourite son' but he declined. Mr. Mitchell expects that there may be further opportunities for leadership.
In remarks this afternoon at the closed nomination session of the Party's Convention currently being held at the Wyndham Crystal Palace Hotel, Mr. Mitchell said:
"I believe that I have successfully championed the democratic rights of all PLPs who choose to run for any office in our Party. I will continue to work throughout this Convention and beyond for an effective, fair and transparent electoral process, conducted with courtesy and respect.
"I want to win the Leadership of the PLP. I want to win the Leadership of the country, and this continues to be the fact, but my supporters and I have determined that such a move at this time will not now serve the long-term interests of the Party.
"By openly declaring my interest in the leadership of the Party and by demonstrating the support for my Agenda For Change, I am pleased with the galvanising effect that has become evident to everyone in the electoral process and the conduct of the Party's leadership.
"My work with the Mission Fund to support candidates for the general election will continue and I will continue with my work on the agenda for change, both of which are critical for the future success of the PLP.
"I remind those in the FNM who would make mischief to mind their own business and council them, instead, to prepare to deal with a re-energised, rededicated and powerfully invigorated PLP.
"I again thank my colleagues in the Parliamentary Caucus for our shared hard work and dedication and pledge my continued support.
"I remind young Bahamians that the campaign for change was launched for to demonstrate that there is space in the PLP for young people as the Party works to engage the next generation of PLPs.
"Finally, the Party deserves at this Convention an open, fair, transparent and uncluttered process as we organise ourselves to respond to the lessons of 2007. I will continue to be an integral part of that process, now and in the Party's coming conventions leading to the next General Election.
PLP ALL THE WAY!