VAT PSA 15 from King Of Hearts Media on Vimeo.
His distinguished, decent dedication and devotion to the national business must be praised by all citizens!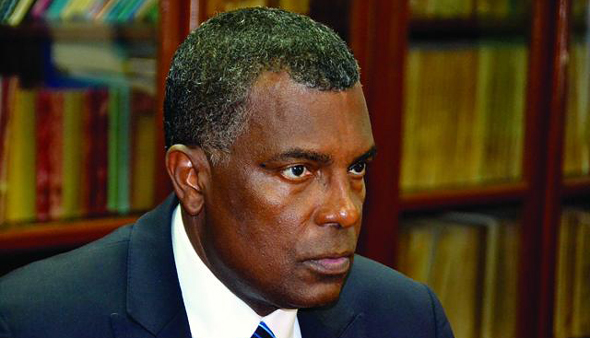 Nassau, Bahamas – Bahamas Press has named Foreign Affairs Minister The Hon. Frederick Audley Mitchell Jr. as our 'Person of the Year –2014'!
Mr. Mitchell was unanimously selected out of a short list of persons as the individual who has ignited and propelled great change to the benefit of the Bahamian public in 2014.
His unwavering defense of the Bahamian people and unyielding commitment to the national development of the country has distinguished him as a pacesetter in our national business.
This year Mr. Mitchell almost single-handedly took on the defense of the Good Name of the Nation against pure terrorists who were planted in the business of Human Trafficking around our nation. Leading the charge that they will not destroy or tilt the Bahamas in the wrong direction. Mr. Mitchell bruised mercilessly those who came up against the country as he defended the right of the Bahamas to protect it borders.
Additionally, against of wave of attacks in the media, Mr. Mitchell was relentless in proving clear and honest points of fact – against wild assertions and grotesque opinions crafted to defame the Good Name of Bahamians around the world.
Additionally, when Prime Minister Rt. Hon. Perry Christie began his planning of a new national policy for Immigration, he sent out one of his most trusted and able batters [Mr. Mitchell] to deliver progress on that new policy.
Mr. Mitchell, being committed to seeing that policy through in respect to all men and women affected, reminded officers – charged with implementing the new policy – that they have a responsibility to treat all persons effected humanely and fairly. This was the right approach…and his great leadership in the Department of Immigration kept the plan on track.
Also, respect for the Bahamas and Bahamians was further bolstered around the world as Mr. Mitchell expanded representative Ambassadors across continents, placing focus on training and retraining with the persons becoming the face for Bahamians. To Mr. Mitchell's credit, scores of young men and woman are engaged in an opportunity of a lifetime to represent the country abroad. Unselfishly, being that role model Ambassador himself, Mr. Mitchell become an exemplar in the Foreign Service who transported his style of distinguished, decent, dedicated and devoted service to the Bahamian people around the world.
It is for these reasons and more Bahamas Press' Editorial Committee has concluded that the Hon. Frederick A. Mitchell should be named as our Person of the Year 2014!
We report yinner decide!
VAT PSA 14 from King Of Hearts Media on Vimeo.
PSA 18 from King Of Hearts Media on Vimeo.