PM MINNS DOES NOT KNOW THE DIFFERENCE BETWEEN A REAL DEAL AND A FAKE FRAUD SCAM! PM MINNIS CAN'T DELIVER THIS BABY! DOA!!!!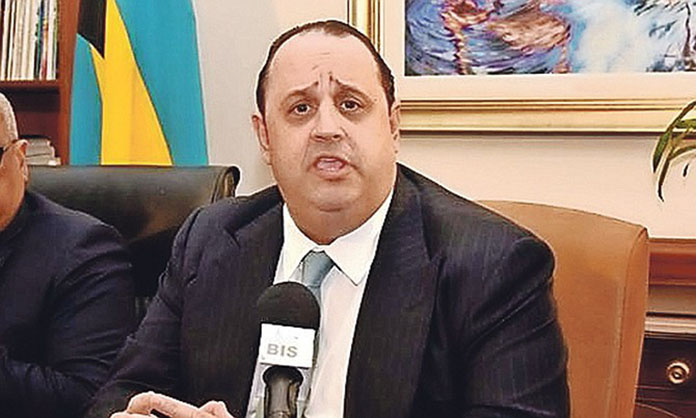 By NEIL HARTNELL
Tribune Business Editor
nhartnell@tribunemedia.net
The Government was last night facing serious questions over Grand Bahama's proposed $5.5 billion oil refinery, after the project's chief promoter confirmed his involvement in two lawsuits alleging misuse of investor monies.
Peter Krieger, Oban Energies' non-executive chairman, told The Tribune he was one of three defendants who were accused of misappropriating more than $3.7m of investor monies by US government regulators.
That lawsuit, which was filed by the Securities & Exchange Commission (SEC) in 2005, was settled without going to trial some three years later. Mr Krieger, who challenged the allegations against him, paid a $110,000 civil penalty "without admitting or denying" the claims, and agreed to be bound from committing future securities law violations.
And, following further research by The Tribune, Mr Krieger confirmed he was also named as a defendant in a legal action filed in 2013 by the Bahamas-based judicial manager for a sister company of the insolvent insurer, CLICO (Bahamas).
#John Lopez, the KPMG (Bahamas) accountant who took over British American Insurance Company (BAICO) in the wake of its collapse, and that of its CL Financial parent, alleged that Mr Krieger misappropriated $8.7m of the company's funds for his own personal use.
The case against Mr Krieger, though, was dismissed on a technicality, as it was "time barred" according to the "statute of limitations" that applies in the US.
The Oban Energies principal yesterday said the claim against him had subsequently been defeated in the appeals courts, and added: "They really have no grounds to stand on."
Mr Krieger argued that he was the injured party, given that BAICO had failed to fully pay him the purchase price for 14,000 acres of land he sold to the insurer prior to its failure.
He alleged that he had obtained a $70m judgment against the company, and that the judge had "scolded them for perjury and making these outrageous claims against me, and dragging my wife into it".
However, The Tribune could find no record of the case or judgment, which Mr Krieger said he had filed in the middle district Florida court, despite an extensive search of that court's case database.
The Oban Energies principal, alive to the potential fall-out, said he hoped revelations of his past would "have no effect" for Oban Energies' $5.5 billion oil refinery/storage terminal project given that it had just signed a Heads of Agreement for the Minnis administration on Monday.
Promising future announcements about the involvement of "major international energy companies" with the development, Mr Krieger also sought to downplay his role and importance by stressing he was not part of Oban's executive management team.
He described himself as "more of an ambassador for the company", and said his role would be "extremely limited" once Oban Energies obtained all the necessary government permits and approvals.
LOOK WHAT MINNIS INVITED TO TIE UP DA COUNTRY! WHO WILL PROTECT AND DEFEND THE PLACE?