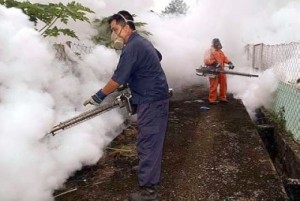 Nassau Bahamas — Another employee in a government department became the latest fatality in a number of victims succumbing to the serious and deadly Dengue Epidemic.
Sources in the Ministry of Finance confirmed to Bahamas Press that the government employee and former Tribune part-time newspaper delivery driver succumbed into the arms of her husbands after a short battle with dengue related symptoms.
We are told the mother of three, which includes an eight-year-old girl, had come down with dengue related symptoms early last week Monday. The woman we are told left work early in the week and reportedly went to the clinic under a barrage of pain.
On this Friday past, while battling her sickness, we are told the ailing woman requested he husband's assistance into bathroom, where the discomfort became unbearable. The woman then suddenly collapsed died in his arms.
This is the 4th case of its kind where someone was healthy as a horse on Monday, contracted dengue-like symptoms and was dead by Friday.
Bahamas Press has warned health officials and by extension the Government of the Bahamas of this dangerous plague now hitting the Bahamas like a freight train all across the country, to take drastic measures to minimize heath risks to citizens and guests.
We advise the department of Environmental Health and Sanitation Services to immediately and quickly eradicate excessive garbage pileups, which have overtaken the country due to a proper garbage collection. Records prove every time the Bahamas had a dengue outbreak, poor garbage collection was also a major problem.
In this, Bahamas Press also encourages residents to hire refuse collectors to depose of their waste to minimize them contracting the disease. We encourage residents to get remove all water filled pots, buckets, and bins on their surrounding properties.
And we encourage the DOEHS to begin flyovers and road vector control exercises immediately. Fumigate the bush, ponds, lakes and hidden areas all over the country to rid Dengue producing labs from the face of the land.
Meanwhile, BP will continue our public information on these developing stories as we encourage the public to create a shield of defense against dengue.