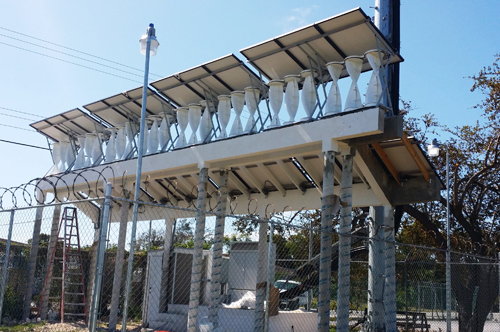 NASSAU, Bahamas – In their ecology quest to 'go-green', The Bahamas Telecommunications Company (BTC) has recently activated initiatives including the introduction of their first solar powered cell tower and paperless statements.
BTC CEO Leon Williams said they are constantly seeking long-term energy conservation methods promoting the use of more eco-friendly technology.
"A few weeks ago we installed a hybrid solar mill at our Marigold cell site in the Sea Breeze community. The hybrid solar mill, is a combination of wind and solar, to provide clean and efficient power. The power capacity is 12kw. We need reliable power, to provide a reliable network for our customers. Since the installation of the solar mill, we have been able to switch off our generators and commercial power, we've strictly used the solar mill since April 11th. The solar mill provides an added layer of reliability for BTC."
Over time, BTC views this as an avenue of reducing its operational costs, and providing better network reliability. Williams continued, "BTC has an expansive network as we have a universal service obligation to provide service to any community with ten homes. Our network spans to every single inhabited community in the country. We fully embrace any opportunity to improve our reliability and streamline our costs."
BTC has also introduced a number of customer centric initiatives to improve service. BTC introduced e-billing, and is encouraging customers to help them eliminate the use of excess paper. With e-Billing, customers receive their BTC bills online every month. It eliminates the need for a physical printed bill, enabling the company to cut down on the amount of paper it uses. To sign up for e-Billing, customers can call or visit any BTC location. Customers are also able to pay their bills online using EZPay and can view their accounts using the My BTC app on their mobile phones.
BTC is the leading telecommunications company in the country, providing modern landline, internet, and mobile services to every single island in the country. BTC is jointly owned by the Government of The Bahamas and Cable & Wireless Communications.