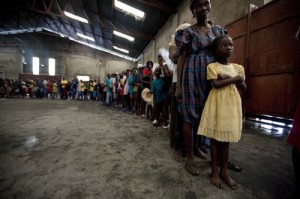 By CBC
Haiti — Aid workers in Haiti are scrambling to cope with a lack of supplies and the need to relocate residents as resurgent tropical storm Tomas approaches the earthquake-devastated country.
At 5 p.m. ET, a hurricane watch and a tropical storm warning were in place for the Caribbean nation. The storm, which had earlier been downgraded to a tropical depression, regained strength and was upgraded to a tropical storm.
Tomas's wind strength had climbed to 75 kilometres per hour, experts at the U.S. National Hurricane Center in Miami said. If the wind velocity exceeds that figure — and forecasters said it is likely by the time the storm reaches Haiti — Tomas would be upgraded to a hurricane.
Tomas was located about 490 kilometres south-southwest of Haiti's capital, Port Au Prince, and roughly 405 kilometres south-southeast of Kingston, Jamaica.
A tropical storm watch has been issued for Jamaica, along with parts of the south coast of Haiti's neighbour on the island of Hispaniola, the Dominican Republic, Cuba and the Bahamas.

Flood worries
Nigel Fisher, the United Nations humanitarian co-ordinator in Port-au-Prince, the capital, told CBC News that aid workers are concerned about the potential for flooding. His office is warning that the potential rainfall could cause serious problems in the severely deforested country.
"If we don't have a change in the path, there will probably be ordered evacuation of low-lying towns along the entire coast of Haiti," he said.
Forecasters said Tomas could drop between 12.5 and 25 centimetres of rain on Haiti.
Haiti was hit by an earthquake Jan. 12 that killed as many as 300,000 people. About 1.3 million people are still living in tents and Fisher estimated that half of them can find accommodations with friends or family.
Others will need to take shelter in institutional buildings such as schools or churches, he said. Camps that may flood are being moved to new areas, and the government has warned people will be basically on their own if Tomas hits.
On its current track, Tomas would hit every major Haitian city, including Port-au-Prince.
"The size of the storm is, I think, really testing us to more than our limits," Fisher said.
Cholera risk 'very dangerous'
He said aid workers need more tarpaulins and water cans "by the thousand" as they deal with both the storm and a cholera outbreak that has killed more than 330 people and put more than 4,700 in hospital.
"The way it looks now, there could be flooding in the areas which have cholera, and obviously if you get a large-scale movement of people, you get flooding, you get mixture of water and waste. It could be very dangerous," he said.
Haiti officials say the Corail-Cesselesse relocation camp and its thousands of tents are not safe. Officials, speaking through megaphones, told the estimated 7,850 residents of the primary relocation camp to find a different location during the storm.
Residents were expected to begin leaving Wednesday.
The Caribbean islands of St. Lucia and St. Vincent have already been hit hard by Tomas, with at least 14 people dead in St. Lucia and $24 million damage to crops in St. Vincent.
Read more: http://www.cbc.ca/world/story/2010/11/03/world-hurricane-tomas-haiti.html#ixzz14LcdisEb