By: Diego Morales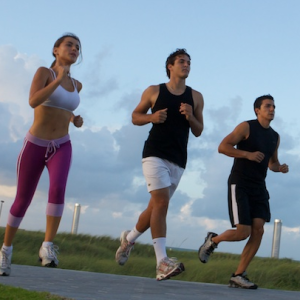 Personal Trainer Certified.
Before starting any type of training it is necessary to consider your physical condition. It is not the same type of training for a person who has never practiced any sport than someone who practices or did at one time on a regular basis.
The first step is to see a doctor to determine your state of health. The doctor helps you determine the type of training appropriate for you. With this information, you can start planning your routine and avoid any injury.
When you begin a training plan, it  is important to measure your heart rate during your training session to check if you trained properly according to your objective. It is not the same to have your maximum heart rate at 60% compared to 85% when training.
There are five different heart rate zones to train, each of which corresponds to different metabolic and transports mechanisms within your body breathing.
Maximum heart rate can be determined by using the traditional formula by calculating 220 minus the person's age for men and 224 minus their age for women.
Below we briefly explain each area:
AREA 50 – 65% of Maximum Heart Rate
This is probably one of the most important training areas and least appreciated. In this zone your body will burn a blend of fatter carbohydrates for fuel. This level of training is recommended for those starting a cardiovascular program.
This area is used for people in rehabilitation or those whose primary interest is to exercise for losing weight.
LOW AEROBIC ZONE: 65 – 75%

Training at this level will harden your hearts and give it the opportunity to work at its optimum level.
HIGH AEROBIC ZONE: 75 – 85%

Training in this level will not only benefit your heart, will also work significantly the respiratory system.
ANAEROBIC ZONE: 85 – 92%

Training in this range is primarily beneficial to increase the ability of your body's metabolize lactic acid, allowing you to train harder before crossing the line of oxygen debt.
RED ZONE TRAINING: 92 – 100%

This is the highest level of training intensity. You should only train in this range if you're highly trained. While in the Red Zone, your muscles are using more oxygen than your body can provide.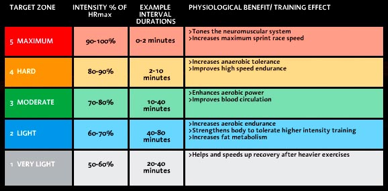 References:
http://www.futsalcoach.es/futsalcoach-web_v1/area_tecnica/archivos/702_08_9_11_frecuencia_cardiaca.pdf
http://www.polarusa.com/us-en/
Dave Scott. Precision Heart Rate Training. 1999 by Human Kinetics INC.
DGMLIFE is a team of certified Personal Trainers and Fitness experts with over 8 years of experience in changing the physiques and improving the health of its clients. Based in Miami, they create comprehensive personal fitness and training programs for clients around the world. To learn more please visit www.DGMLife.com