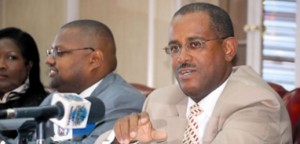 Nassau, Bahamas — Bahamas Press is appalled and disgusted by the empty scatterbrain now sitting at the helm of national security. The city borders are porous, the townships are violent and the streets  are hemorrhaging into a river of blood, following attack after attack towards the innocent.
The man who stood on the rally stage and claimed to know how to tackle crime and take down the criminals, is now finding out that crime is taking him down.
What a degenerate we have in office! What kind of cheat rebrobate believes he could sit in that seat and bamboozle the local citizenry; having them to believe innocent lives are not being hunted down by these 'vicked' Rwandan gangsters?

Tommy Turnquest should have been removed as minister of national security the day when murders in 2008 broke the record for the second consecutive year. Back then he promised more patrols. Back then he promised more police visibility. Back then he promised to implement the findings of the Crime Commission, the second of its kind to become food for dust mites. Tommy Turnquest once again invited all those stakeholders at the Wyndham Hotel on Cable Breach for another public relations exercise.
We would take it further and suggest he made certain popular police COP, Ellison Greenslade, was appointed to act as a human shield for his failures in the National Security office, but Bahamians patience are wearing thin.
We wonder if anyone has noticed yet, that since returning back to the country, Tommy Turnquest has not said a damn word about the riot that never was in Bain Town? MUMS THE WORD!
We describe Tommy Turnquest and the FNM as complete and absolute failures in the fight against crime. They together Stopped and Cancelled the efforts of the Police Tourism Unit. They withdrew police from the most hostile violent schools across the country and they cancelled Urban Renewal, which, when it was implemented  saw a dramatic decrease in crimes throughout communities.
Then lets take a look at ZNS and Tommy's WUTLESS leadership there. Under Tommy the BCB has moved from bad to worst. Look at the newscast, ran over like a dog mangled on the side of the road by NB12. No Investigative Reporting, No Education Features, and No Breaking News. Prime Minister Rt. Hon. Hubert Ingraham addressed the nation on Star106.9FM yesterday and in tonight's newscast ZNS reported not a damn word. This means as far as the family islands are concerned, Hubert Ingraham had nothing to say.
We call on the Prime Minister to rid the country of TOMMY! He is a complete waste of time! We call on him to find the half ball lost somewhere in his brain and fire Tommy Turnquest from his Cabinet! In fact, if Tommy had any shame, he would offer his resignation forthwith. Papa the damn ship is sinking and it is time to offload the baggage!

WE NEED CHANGE!