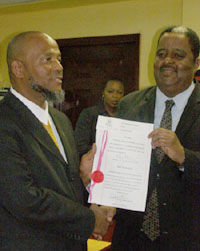 Nassau, Bahamas — The FNM Cabinet has elevated to the status of Justice of the Peace political activist, Rodney 'The Hammer' Moncur.
During a recent Cabinet meeting Hubert Ingraham fast-tracked Moncur's appointment to the the status of JP.
We have several questions for the 'Hammer', have you been bought out for 30 pieces of silver? Is there a new alliance between the Worker's Party and the FNM? And we wonder who in the FNM Gov't. made the recommendation? Things that make you go HMMM! Either way we think 'the hammer' is well deserving.
The courtroom was over extended with family, friends, fellow advocates and political comrades all eager to witness the swearing-in of Prince of Black Village's newest Justice of the Peace.
Chief Magistrate Roger Gomez noted that he expected great things from Mr. Moncur; most of all, the effort to maintain peace and good order.