Ed Bethel in the court of Saint James…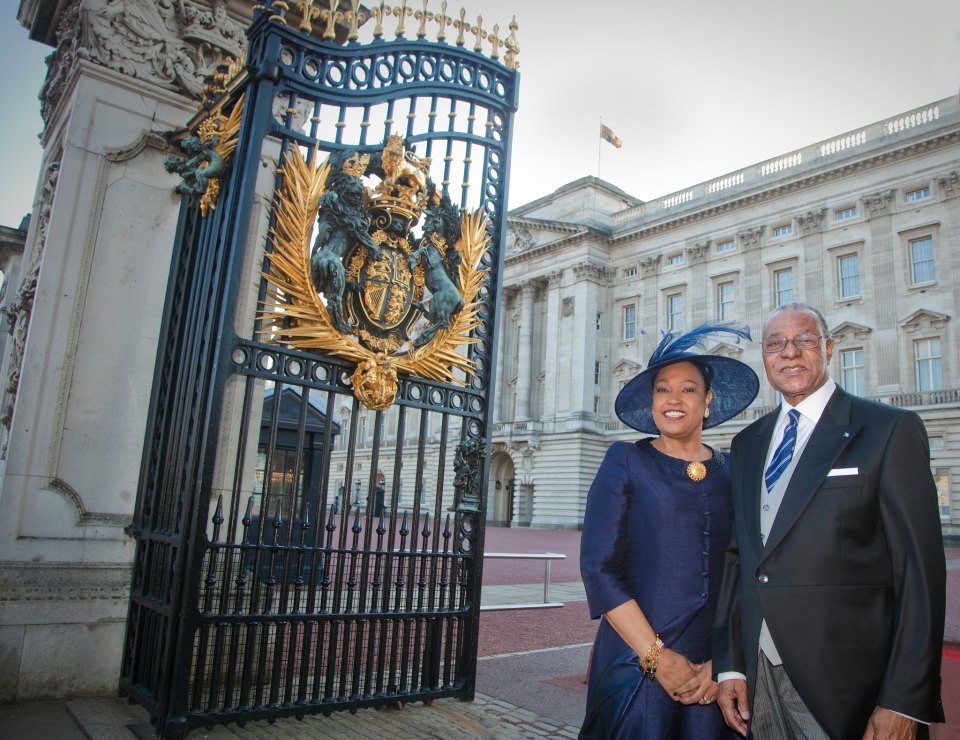 LONDON, UK –  On Wednesday, 20 February 2013, Her Majesty Queen Elizabeth II received His Excellency Mr. Eldred E. Bethel, High Commissioner for the Commonwealth of The Bahamas, and his wife Mrs. Dawne Bethel. The meeting took place at Buckingham Palace at 12:30 p.m., following which the High Commissioner and Mrs Bethel hosted a "Vin d'honneur" at Bahamas House in London.
The High Commissioner's guests included Mr. Charles Gray, Marshal of the Diplomatic Corps, Ambassadors and High Commissioners, Heads of International Organisations in London, Representatives of the Foreign and Commonwealth Office, Specially invited Friends, and staff members of the Bahamas High Commission, Bahamas Tourist Office and the Bahamas Maritime Authority.
Speaking on this special occasion, the High Commissioner warmly welcomed all guests to Bahamas House.
"A couple of hours ago I was kindly received in Audience at Buckingham Palace by Her Majesty Queen Elizabeth II. I wish to thank you for joining my wife, Dawne, and I as we celebrate the official commencement of my tenure as High Commissioner for the Commonwealth of The Bahamas to the Court of St. James.
I thank each of you most heartily for making me so inexpressibly happy by your presence on this impressive and memorable occasion.
As High Commissioner I am charged with the responsibility of strengthening the excellent bilateral relations which exist between the United Kingdom and the Commonwealth of The Bahamas.
As non-resident Ambassador to the European Union, I am also charged with strengthening our bilateral relations with those countries to which this Mission is accredited, those being Belgium, France, Germany, Italy and Greece.
I look forward to working closely with all of you as the Mission seeks to promote tourism, trade, financial services and shipping and to advise prospective United Kingdom and European investors about the opportunities for investment in the Commonwealth of The Bahamas.
I look forward to the cooperation with members of the diplomatic corps to work closely with the government in realising the fullest potential of the Bahamian people.
This year marks a significant anniversary in The Bahamas. In July we'll celebrate our 40th anniversary of Independence. This year's celebration marks the nation's freedom with renewed hope and optimism.  During the year we expect to mount several events to celebrate this milestone anniversary and we invite you to join us. You will find that our Tourism Motto still holds true…It's Better in The Bahamas".
Thank you very much everybody.
And now it's with pleasure to invite you to join me in commemorating today's special occasion by raising your glasses in a toast to Her Majesty, The Queen!"