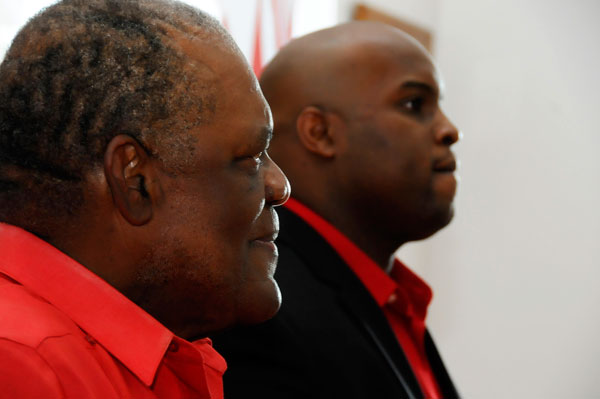 Candidate left his sexy trainer wife to live back home with he mah five months ago

– WE DELIVER!

CLICK TO DOWN LOAD DIVORCE COURT DOCUMENTS

Nassau, Bahamas — Bahamas Press today is examining the eligibility of an FNM candidate to sit as a Member of Parliament.

Just this week, Bahamas Press obtained copies of the divorce papers of the South Eleuthera candidate Howard Johnson, better known as HO JO on BP.

Bahamas Press can confirm, according to the documents, that the FNM MP candidate asked a Broward County Florida court to dissolve his marriage last year November.

According to documents obtained by BP, a case file #11-15675 outlined that Johnson and his estranged wife had separated and sought the court's permission to make the once blissful marriage annulled.

The couple married on May 10th 2005, and would have celebrated their 7th anniversary on May 10th, 2012, just a month from the date Hubert Ingraham decided to ring da bell: If ya don't laugh you will cry.

The couple had no dependents during the marriage so there was no custody fight, and, from what we read, they also had no money. – WE WONDER WHY?

In fact, when one reads the documents on the records of the Florida Court, Howard Johnson cannot take his seat in Parliament. He is flat broke and is insolvent.

Here the law: According to the Constitution of the Bahamas under Article 48 (1) (d) it reads:

48. (1) No person shall be qualified to be elected as a member of the House of Assembly who-

(d) has been adjudged or otherwise declared bankrupt under any law in force in The Bahamas and has not been discharged;

According to the court documents, Johnson had owed total debts listed as "Other" on his divorce papers some $75,000.

Added with Interest Loans and Credit Card Charge accounts, he owed creditors an additional $1,800, bringing his total debts to a whopping $76,800 just five months ago.

His income and assets totaled around $10,420 – and that's what Hubert Ingraham calls leadership for South Eleuthera? VELL MONKEY FOOT!

It is no wonder Ho JO had to collect a cheque from an Island Administrator following instructions from a senior politician. The boy gats no money and is BANKRUPT!

Boy, South Eleuthera we ga leave the rest to ya own judgement cause from the looks of things –

"Ya been Had, Hoodwinked, Run-amok! Bamboozled and LIED TO! Cause in the FNM dey deliver yinner another BUM!"

A side note: find out from BP who the other BUM is who is running in this election for the FNM. HINT: Downtown Nassau!
We report yinner decide.