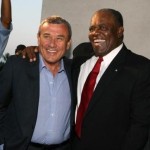 Nassau, Bahamas — BP agents on the ground on Paradise Island can confirm Prime Minister Rt. Hon. Hubert Ingraham is meeting at this hour with Sir Sol Kerzner.
The PM's government vehicle pulled up to the Cove early this evening shortly after 7pm tonight in a planned meeting with the King of Paradise Island.
Bahamas Press wonders what is being discuss between the KING and his errand boy? Inquiring minds want to know.