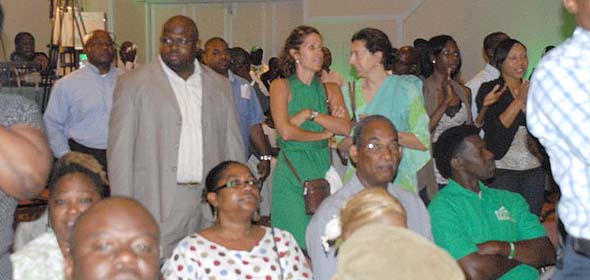 Nassau, Bahamas — BAMBOO TOWN MEMBER OF PARLIAMENT BRANVILLE MCCARTNEY LAUNCHED ON THURSDAY NIGHT THE NATION'S NEWEST POLITICAL PARTY, THE DEMOCRATIC NATIONAL ALLIANCE, DNA.
THOUSANDS OF BAHAMIANS PACKED THE CONVENTION CENTRE TO HEAR MR. MCCARTNEY GIVES THE DNA'S VISION FOR THE BAHAMAS.
MR. MCCARTNEY ALSO INTRODUCED TEN CANDIDATES FOR THE UP COMING GENERAL ELECTION DURING THE PARTY'S LAUNCHING.
THE AUDIENCE IN ATTENDANCE CAME FROM EVERY STRATUM OF THE BAHAMIAN SOCIETY.
DURING MR. MCCARTNEY'S SPEECH, THE AUDIENCE SHOUTED "DNA! DNA! DNA!"
A FIRST TIME TEENAGE VOTER SAID THAT THIS LAUNCHING BY BRANVILLE IS THE BEGINNING OF THE CHANGE THAT WILL VOTE THE PLP AND THE FNM OUT OF OFFICE.