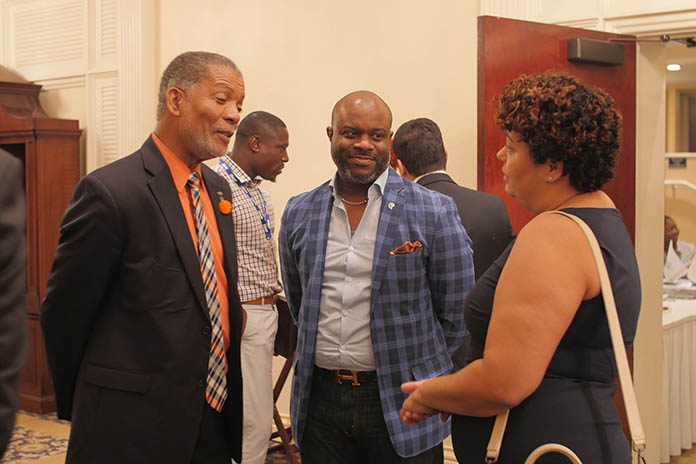 Nassau, The Bahamas. June 29, 2017. Hundreds of businesses turned out for the Business Continuity and Disaster Management hosted by BTC and The Bahamas Chamber of Commerce (BCCEC) and Employers' Confederation last week. The event was themed, 'Access, Advice, and Advocacy'.
BTC's Deputy Chief Financial Officer Neisha Butler talked with participants about the importance of developing a financial continuity plan. Butler also gave advice on what the plan should include and how to write it. "I wanted to provide some insight on what we look at within BTC, that other companies mirror to build a business case for these types of investments," Butler said.
The workshop featured a panel of IT and disaster planning specialists. Among them were BTC's Senior Associate of Pre-Sales Engineer Tyrone Knowles and the Vice President of Enterprise & Government Carlyle Roberts. Other presenters included Vanessa Phala, Marcelo Oliviera, Robert Teelucksingh, Gayle Outten-Moncur, Edison Sumner, and Delroy McLean.
The International Labour Organization's (ILO) Senior Specialist for Employers, Vanessa Phala presented on "The Impact of Natural Disasters in the Region, How resilient is your business?" In the presentation, she went through the 'Ten Steps to protect your Business.' During a demonstration the audience was asked to share testimonials about the state of their businesses after natural disasters occurred.
Assistant Vice President of Nassau Container Port, Richard McCombe spoke about the impact of 1988 Hurricane Gilbert, which he described as the first major hurricane Jamaica experienced. He said that the community was able to get together to find a system that would work to keep their businesses afloat.
Andrea Knowles from Foresight Communications shared her experience about her home and work conditions after the last Hurricane. "We had a lot of big trees that fell inward, (in the yard) barring me in. But the good thing is we had communications through BTC, that didn't go down at all during the storm. So my co-workers and I were able to communicate during that time so that they knew that I was in a limp and they could help me. Communications were up at work and at home which I can't say was so for most people, so I'm happy for that. The good thing is that the business was able to get through that and everything stayed up," she said.
The National Emergency Management Agency's (NEMA) Senior Assistant Secretary/Operations Manager Gayle Outten-Moncur also gave a presentation on Disaster Management Governance. Outten-Moncur gave a brief history of NEMA and a breakdown of how the organization functions in the case of an emergency.
Senior Associate Pre-Sales Engineer, Tyrone Knowles spoke on Mobile Device Management (MDM). Knowles noted that the service exclusively offered by BTC is useful to businesses because they would be able to monitor company electronic devices. With the MDM companies are better able to efficiently and effectively manage their employees remotely by using their devices.
The final presenter for the day was BTC's Vice President for Business, Carlyle Roberts. Roberts broke down the key elements of a continuity plan; People, Plans, Processes, Platforms and Partners. He stressed that customers are the heart and central driving force of any business, and after any disaster once the business would have recovered and could produce services to the customers, customer satisfaction improves.
BTC was encouraged by the turnout, and plans to make this an ongoing initiative.