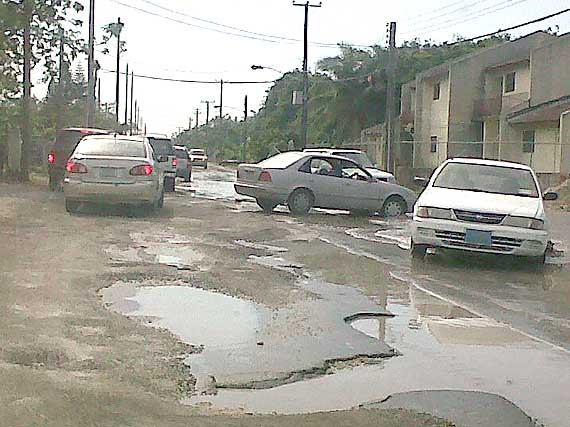 Geno D – Dig Up 2011 by 242party
Nassau, Bahamas — If you traveled east on Soldier Road lately you would understand the reason for writing this article.
BP's mobile camera is on the ground around the country picked up this scene from the troubled New Providence road project in progress.
This is the Bahamian version of Mogadishu. Our cameras have not traversed this community in a while, and so as we searched for the constituency office of Kenyetta Gibson, we came across this cataclysmic mess.
It is no wonder why there is such rank lawlessness in the country. Look at the roads in this part of town. Hills and valleys open flooded craters, lakes and opaque rivers are mapped in this part of the city.
It was painfully unpleasant to see this kind of damage being inflicted on a citizen vehicle. Clouds of soot and smut plums like gas into the air. Powdery cement, rock, chemicals and concrete fill the air in the community. Children play in around dusty relics parked and stacked all along the roadways as the dust collects to the windows of a once beautiful home. This must be a recipe for a dangerous case of lung ailments. How could a government subject its people to this level of squalor?
Garbage in the area is another growing blight on the residents in the district. Collection has not happened in weeks and members of the community have resorted to burning their garbage.
Power in the area is off regularly, and the flow of fresh water is another necessity denied to residents in this part of town.
We could not believe what we saw. An area climbed into a state like the bottomless pit of hell; a modern day rambunctious cesspool?
Leaders, who have dragged this country into this state of NASTINESS, should never be returned to power. And some we believe should feel the weight and judgment of the people into eternity.
And where is the 'VICKED' WUTLESS MEDIA you might ask in all this? Somewhere protecting the Bahamian Gaddafi as he boards a luxury helicopter laughing on the ground and saying: there is no devastation following hurricane Irene. THEY TOO HAVE NO DAMN SHAME!
We join Ivan Johnson and the Punch when they wrote, the FNM GA LOSE!