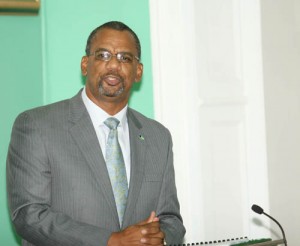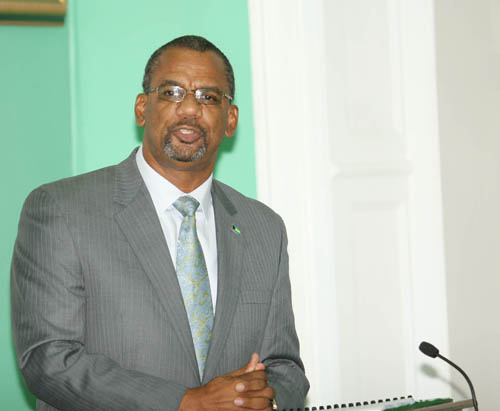 The Ministry of Education, Science and Technology has launched a competition to find the best logo for the 19th Conference of Commonwealth Education Ministers (19th CCEM). The high level triennial meeting will take place at the Atlantis Resort, Paradise Island 22 – 26 June, 2015.
Mr. Marcellus Taylor, Deputy Director in the Department of Education, and Deputy Head of the Local 19th CCEM Committee, made the announcement during a press conference held on Monday, 28th April, 2014.
Mr. Taylor stated that the primary goal of the competition is to give local Bahamian artists the opportunity to design a logo which is uniquely Bahamian and reflects the theme of the conference "Quality Education for Equitable Development: Performance, Paths, and Productivity".
The overall winner will be recognised as an honourary delegate to the 19th CCEM and will be invited to events hosted by the 19th CCEM Bahamas Committee and its partners. Additionally, the 1st place winner will receive a Samsung GALAXY S5, a 7" IPad and a $1,000 cash prize. The 2nd place winner will get a Samsung Galaxy S4 LTE and $750 and third place finisher, a Samsung Galaxy Mini LTE and $500. Chairpersons of the 19th CCEM Bahamas Logo Committee, Ambrose Fernander and Pamela Chandler hope that in addition to the prizes, local artists will be motivated by the prestige of designing a logo which will brand such an important conference.
The contest which started on Monday, 28th April, 2014, will run until Friday 13th June 2014. It is open to Bahamians who are 15 years or older. Submitted works must be original and not based on any preexisting or published design.
All entries will become the sole property of the 19th CCEM Bahamas Committee and may be displayed publicly, including on all marketing materials and websites (e.g. www.bahamas.gov.bs; www.thecommonwelath.org; www.bahamaseducation.com and on the 19th CCEM website .
The winner will be announced two weeks after the deadline for submissions and prizes awarded after legal confirmation of the logo.
Entrants must submit their work by email to 19ccemlogo@bahamas.gov.bs or on CD to the 19th CCEM Bahamas Secretariat at the Ministry of Education, Science and Technology, Thompson Boulevard. Entries must be submitted in the scalable vector EPs format, and a copy as a JPEG.
The submission must include the name, address, age, postal address, phone numbers, island of residence and email address of the entrant. No more than two (2) entries may be submitted by any one entrant. For more information on the competition, please contact 19ccemlogo@bahamas.gov.bs.