She claims someone is trying to kill her – but we say – she is doing a good job with that all by herself!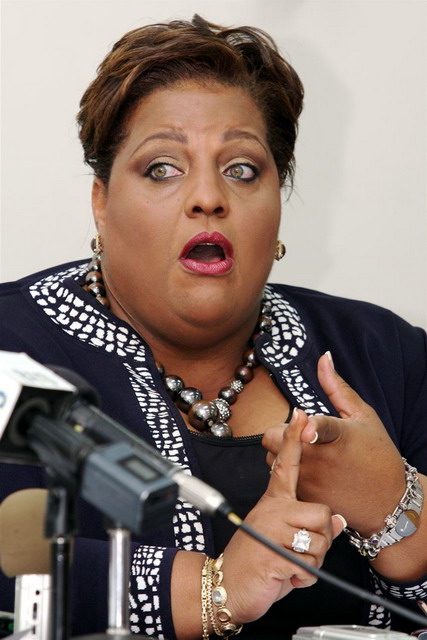 Boy Loretta is looking worse by the day in the press …

and… if she keeps this up,
she would do damage to herself!
Nassau, Bahamas – Before Loretta could tell another lie, we all found out that not only her, but her Leader, the Chairman, Brensil Rolle and someone else – according to a letter issued by Darron Cash – were all under a threat investigation following a letter sent to the leadership. Bahamas Press has our own suspicions as to who penned the letter and put it in their BEC envelope, but that's another story for another day.
But this proves again here is a woman, gullible and greedy not only for power, but anything she could get her hands on, who would do anything to hog up attention to herself while seeking to show that there is some split in the FNM!
It is this same kind of gluttonous and humongous appetite for power now being callously displayed by the Member for Long Island, [fanned by a small faction within the FNM], hell-bent on keeping the party from winning an almost prophetic situation.
It is this same large, hefty, heavy thickness of distraction who is forcing the slow rise of the FNM's national message. The almost daily interference by the Deputy Leader in the FNM has caused her to now appear in the public view as "puppeteer extraordinaire" in a ballet of distraction, lies and deceit, which is causing huge distractions for the opposition.
This is not good.
Just take a closer look at LGBT – Butler-Turner's ideas for the direction of the country and then, when you climb upstairs and knock on the door, you get the cold answer of nothingness! "Nobody home"!
Just a bag of dry hot wind; another sounding brass and tinkling cymbal. Behaving like a uncontrolled Jackass on medication without chains – or better yet another jungaliss 2.0 without clothes! How unparliamentary!
The FNMs are tired of it! The PLPs are annoyed by it! And the people of Long Island and every Long Islander we know sits quiet in shame.
And then the joke of the week: Here she comes like a nurse dressed in her famous black attire with a new black needle. Sitting at her favorite dining table which appears like one out of a Barbie Doll showcase. And there she looks down at the press, who all stood in awe like the children characters from the community of the munchkins out of that famous Wizard of Oz cast waiting to hear some bedtime story.
Meanwhile the oversized 'Dorothy' gives them her new tale, "Someone is trying to kill me and y'all need to help me get back home."
Boy, I hope Loretta is taking her medication. What a Joke!
BP want say something but we ga leave that for another day.
All we ga say is this: no one in their right mind wants to touch Loretta. Andre Rollins tried it and he perhaps is still pissing in bed every time the nightmare of that insane event in the Parliament comes up in a dream.
But if that is indeed her wish – all she needs to do is keep eating out the limited livestock on Long Island every time she visits and let her see how far doing that will take her into the future.
Some people just love to distract the Bahamian People from the real issues we are facing in this country!
If you don't laugh you will cry!