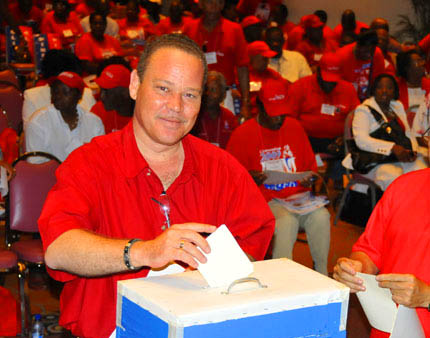 Carl Bethel Fired as Chairman of the FNM!
A BP NEWS ALERT <<< Sources deep inside the belly of the FNM have confirmed to us sweeping changes to the candidates lineup of the FNM. We can confirm Carl Bethel will be replaced as Chairman by Michael Pintard.
Pintard is now moving around the country like a lost rolling stone. Four months ago he was in Blue Hills as the candidate. That didn't work after FNMs resigned and turned on the young turk. He then was told to go to Bamboo Town, but he resisted as he knew the FNM will get a BIG BAMBOO put on them in that constituency.
Then he went to Cat Island, Rum Cay and San Salvador, but the people there told him they 'gat' a BRAVE MAN and was not looking for any wimps. And so like the Sandilands patient he could be, with poetic justice, Pintard is lifting his tired sore foot against Carl Bethel and is being cropped-up to take the Chairmanship of the FNM! Boy Papa sure leaving the FNM in chaos.
Some have accused Bethel of burning down the leader of the Party's office on Mackey Street. The garbage bin was nearby Papa's office and the man who smokes like a chimney was often seen flicking ashes near the garbage tin.
Like Johnlee and Ivan, who have no balls left to run for Chairman, Bethel has come under Papa's judicial review by the committee of one and will be axed like a tree at the upcoming November Conclave.
Carl we are told is once again shaking like a crackhead ready for rehab. His political career has been marginalized by Papa.
We can also confirm former Senator, Darron Cash, will run in the Carmichael Constituency. Desmond Bannister is now headed to North Andros. Meanwhile information also tell us the DNA is set to welcome another FNM.