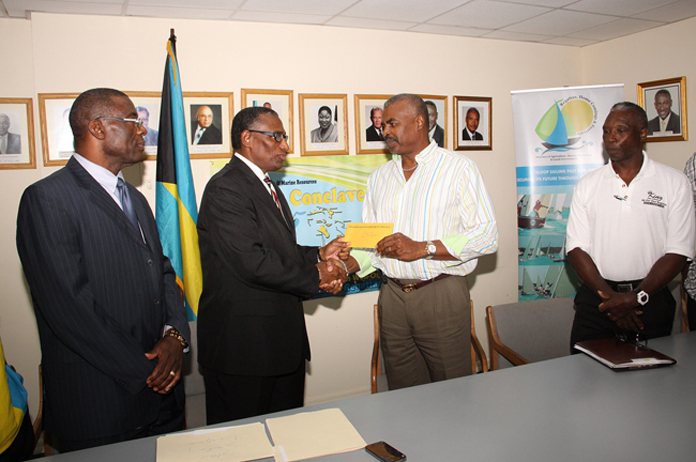 NASSAU, The Bahamas – Minister of Agriculture and Marine Resources the Hon. V. Alfred Gray at a press conference on Monday announced the annual 'All-for-One Regatta' that will take place in Montagu Bay on Majority Rule Weekend, January 9-11, 2016. The regatta is in memory of regatta consultant and racing legend, "King Eric" Gibson.
Giving a little history at his offices at Island Traders Building, the Minister said that the 'All For One Regatta,' was formerly the New Year's Day Regatta. Now, in partnership with the Gibson Family, it is being taken to a new level under his Ministry. "When my Government assumed responsibility for Regatta Development, and I became Minister responsible for Regatta Development, I sought to take this first Regatta to another level, brought it under my Ministry's umbrella and renamed it the "All For One Regatta," which was then headed by the late King Eric and Dr. Philip McPhee, who at the time was Commodore of the BBOSA," said Minister Gray.
"I then sought to make that regatta the premiere Regatta in Nassau, so that sailors from all over The Bahamas will have an opportunity to come and participate in a well-organized event in the Capital."
He saluted all boat owners, sailors, corporate sponsors and Island Associations participating in the three-day event. "Thank you for coming and may God bless sailing in The Bahamas," said Minister Gray.