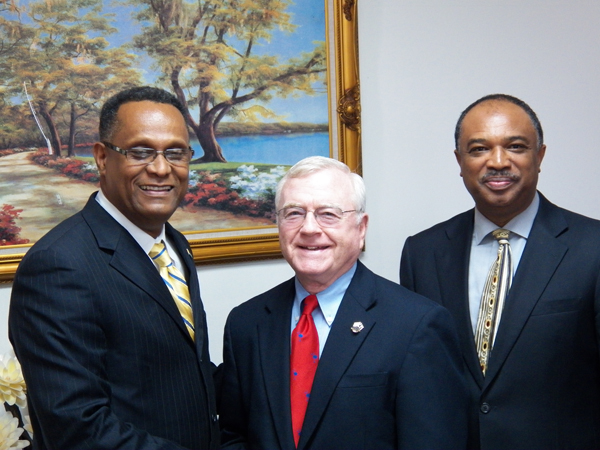 Freeport, Bahamas – Minister for Grand Bahama, the Hon. Dr. Michael Darville on September 13 extended a warm welcome to a special group from Greenville County, South Carolina, encouraging them to create stronger ties with Grand Bahama Island.
The group, from the Ruritan National Foundation, is currently visiting The Bahamas onboard the Carnival Cruise ship Fantasy.
The group visited Nassau on September 12 before traveling to Grand Bahama Thursday morning.  The Ministry of Tourism's People to People agency is working closely with the organisation to give the guests an opportunity to mix and mingle with some of the locals.
Ruritan is a national organisation based in the United States that is dedicated to improving communities and building a better America through fellowship, goodwill, and community service.
They have over 1,000 clubs and over 30,000 members whose impact is valued at over $33 million annually.
Heading the delegation to Grand Bahama was Mr. Fred Payne, a Councillor from Greenville County, who also serves as Planning and Development Chairman for the district.
Dr. Darville told the group leader, during a courtesy call at the Ministry for Grand Bahama, that the Bahamian people truly appreciate their visit and are grateful that they had taken the opportunity to fellowship in The Bahamas, interacting with the people and experiencing first hand the heritage and culture.
"Your service club shares a common goal with our government and that is to enrich the lives and livelihood of our people, building a better nation through goodwill, education and community service," said Minister Darville.
"In this respect we have recently launched our Urban Renewal 2.0, which is geared towards renewing communities, providing a safe environment and enhancing the lives of our youth through increased vocational and technical training and educational programmes," he said.
The Grand Bahama Minister also took note of Ruritan's scholarship foundation and Operation We Care Programme, saying the organisation continues to give back to the community, which is not only remarkable but commendable.
"We hope that after this visit, we not only foster strong ties with your organisation, but are able to partner with you on future endeavours," the Minister said.
Mr. Payne took the opportunity to inform Dr. Darville that he was also visiting as a representative of Greenville County, South Carolina, being a member of the County Council.
On behalf of the Council he took the opportunity to read a proclamation focusing on Bahamas-American Friendship Days which read:
Whereas, Greenville County, South Carolina and Grand Bahama, Commonwealth of The Bahamas, share common interests in population, history, and tourism development, and Greenville County and The Bahamas each have a total population of about 400,000 people; and
Whereas , South Carolina and The Bahamas share common history in that both lands were granted by King Charles II to eight English Lords Proprietors with rights of trading, taxing, appointing governors, and administering the lands under charters granted in 1663 for the Carolinas, and in 1670 for The Bahamas Islands; and
Whereas, Freeport, Grand Bahama, and Greenville County, South Carolina are important centres for international business, tourism, and Commerce; and
Whereas, a group of Ruritan National participants sailed from Charleston, S.C. on a Ruritan Foundation Fellowship Cruise to The Bahamas with plans to visit Nassau and Freeport sites on September 12-13, 2012; and
Whereas, The Bahamas Ministry of Tourism arranges People to People exchanges for groups such as the Ruritan Fellowship Cruise that have the potential to improve friendships and change lives of countless people in both The Bahamas and the United States; and
Whereas, The public acknowledgement and celebration of such partnerships has the potential to increase tourism, trade, investment, and cultural ties between Greenville County, South Carolina, USA, and Freeport, Grand Bahama;
Now, Therefore be it Resolved, that Greenville County Council offers its approval of the international goodwill and fellowship that is being initiated and declares September 12-13, 2012, as Bahamas-American Friendship Days .
Continuing in his remarks, Mr. Payne told the Grand Bahama Minister they are open to any ways to create a mutual beneficial interaction.
Minister Darville pointed out that Freeport's Harbour and the Freeport Container Port allows for trade and that the future for Grand Bahama in terms of industry, trade and tourism looks great.
He said that he will work to help grow the relationship particularly as is relates to farming, trade and education.
Dr. Darville said that he also would like to visit Greenville County and to see first hand how we can grow the relationship.