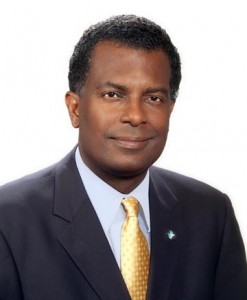 Statement:
The Prime Minister came to Fox Hill without anything to offer the people of Fox Hill but misinformation and propaganda. He is dead wrong yet again to blame the PLP for the troubles in which the City Market business finds itself.
The Prime Minister and his friends like the market forces so much: City Market is a simple victim of the market.  The troubles of City Markets have nothing to do with the PLP's policies or decisions. That as usual is a figment of the imagination of the Prime Minister.
My constituents in Fox Hill were looking for answers from the Prime Minister.  On their behalf I simply demand of the Prime Minister that he  uses his good offices and that of his hapless and hopeless Minister of Labour to protect the interests of the Bahamian workers in this matter.  Nothing more or less is needed by him or from him.
Propaganda cannot put bread on the table.
The issue of the City Markets and the transfer of its undertakings was materially misstated by the Prime Minister.  He is seeking to confuse people in the name of party politics.  It cannot help him.
The PLP at all times in 1967 and in 2006 acted in the best interests  of the people of the Bahamas.  In this country there are private property rights which attach to shareholders.
Notwithstanding all the propaganda to the contrary, the PLP allowed as far as possible during its terms of office to apply the principles of the market and the rights of private owners to sell their shares to willing buyers. It is a delicate balancing act in a small country but the PLP balanced the rights of ownership with the public interest in putting Bahamians first. In the case of both transfers of the undertaking under the PLP, if the PLP had refused then there would have been a cry about the PLP stopping free enterprise. Mr. Ingraham and his rich friends cannot have their cake and eat it too.
In 2006, Winn Dixie, the owner of City Market was on the auction bloc having filed for bankruptcy.  They put the Bahamian property up on the market for auction and the bidders that won were a group that included many well known Bahamian shareholders.  It is therefore incorrect to say that the PLP turned down Bahamian shareholders.
Further,  the PLP administration took steps upon the approval of the transfer to protect the policy of Bahamians first by insisting that the new financiers from the Caribbean were just that financiers and not equity owners.  That was the PLP's policy.
The Prime Minister must speak the truth and not seek to mislead the country on these issues.