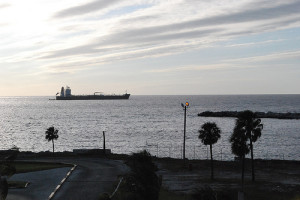 Freeport, Bahamas — Teams from the US Coast Guards have been placed on high alert following mutiny on a vessel docked offshore in Grand Bahama.
Bahamas Press has learnt a crew of Hungarian nationals have commandeered a vessel, believed to be registered in the Bahamas.
Less than two hours ago since our first report, Bahamian authorities have stood down in responding to the crisis now at sea. We are told by sources in the Ministry of National Security, government leadership namely Prime Minister Rt. Hon. Hubert Ingraham, is refusing to get involved in the crisis referring to the matter to the international community.
Shortly after 7PM this evening reports coming into BP allege the crew of the ship took command of the vessel travelling in Bahamian waters.
We are told the crew is alleged to have beheaded the captain an have bludgeoned to death his first mate.
The crisis now in the waters of the Bahamas has force units from the US to respond and have forced international attention to be focused on the seas of the Bahamas.
Where is the BIG BAD PAPA NOW?