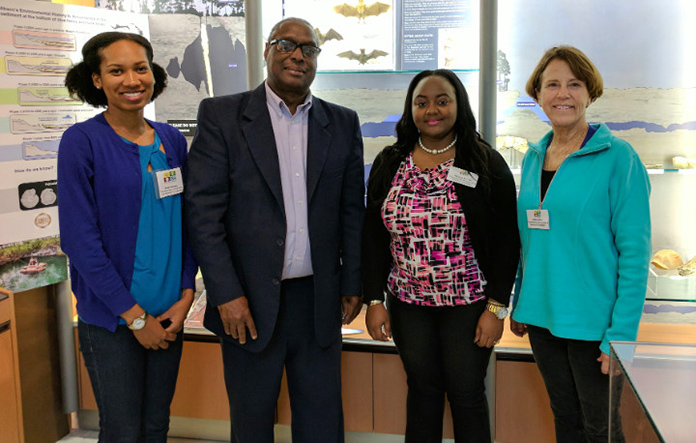 By Bradley Albury
Abaco, Bahamas – On January 3, 2018, the National Museum of The Bahamas / Antiquities, Monuments and Museum Corporation (AMMC) officially opened its first natural history exhibit to an audience of scientists, government officials and environmental stakeholders.
The culmination of over a decade of research, the exhibit highlights the rich history of discovery, science and research in the field of natural history in The Bahamas. Plans are for it to develop as a dynamic display, reflecting the latest discoveries and research.
Some of the Museum's key displays include archaeological finds, such as remains of The Bahamas' first inhabitants – the Lucayans – geological marvels, such as Abaco's blue holes and caves, fossils of prehistoric Bahamian species, such as crocodiles and tortoise, videos and educational presentations.
According to AMMC's Abaco branch manager, Nancy Albury, "Researchers and students, divers, cavers and citizen scientists have contributed to the scientific work that has formed the foundation of this exhibit. Our mission is to educate Bahamians and visitors on the extraordinary natural history of The Bahamas while inspiring the public to learn, respect and conserve the Bahamas' unique natural resources."
The discoveries and subsequent research have been published in numerous scientific journals, popular publications, and film documentaries such as National Geographic's NOVA series.
Visitors perusing the exhibits can observe authentic fossils as well as 3D printed replicas and learn how humans have impacted The Bahamas' natural environments.
The Museum was unveiled during the bi-annual Abaco Science Alliance Conference, hosted by Friends of the Environment, which details ongoing scientific research being conducted on Abaco by scientists from around the world. On hand to view the unveiled museum exhibit were The Minister of the Environment and Housing, the Honorable Romauld Ferreira, as well as the Director of the Antiquities, Monuments and Museum Corporation / National Museum of the Bahamas, Dr. Keith Tinker, among other local and national stakeholders.
Albury thanked donors and researchers, saying "The development and construction of this exhibit was made possible through the generosity of those who contributed their time and financial resources, materials and research. Their contributions have made this exciting project a reality, but much additional funding is still necessary to complete the existing exhibits and future expansion that will include ongoing discoveries."
Partners of the project include: AMMC, Friends of the Environment, the Bahamas National Trust, Bahamas Underground, the Florida Museum of Natural History at University of Florida, Texas A&M University, Woods Hole Oceanographic Institute, the National Science Foundation, the National Geographic Society, and many others.
The exhibit is located at the Abaco office of the AMMC and Friends of the Environment. The exhibit will be available for viewing during regular working hours 9am to 5pm, Monday through Friday. There is no admission fee, but donations for exhibit development are gratefully accepted.