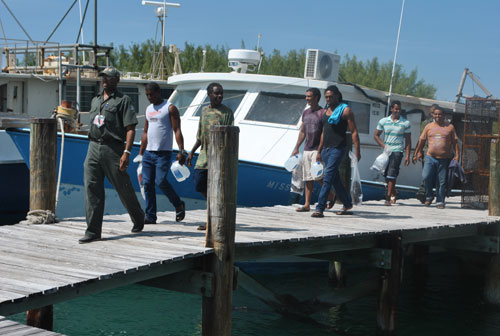 Coral Harbour Base – A Bahamian fishing vessel was apprehended by Her Majesty's Bahamian Ship (HMBS) Leon Livingstone Smith under the command of Lieutenant Commander Henry Daxon on Thursday 02nd October 2014 for Fisheries and Immigration violations.
While on routine patrol HMBS Leon Livingston Smith apprehended a fifty three foot (53-foot) Bahamian fishing vessel, Miss Keffie with nine (9) persons on board. Miss Keffie was intercepted approximately five (5) nautical miles off Damas Cays in the area of Cay Sal with an undetermined quantity of scale fish and six (6) crew members who were not properly documented.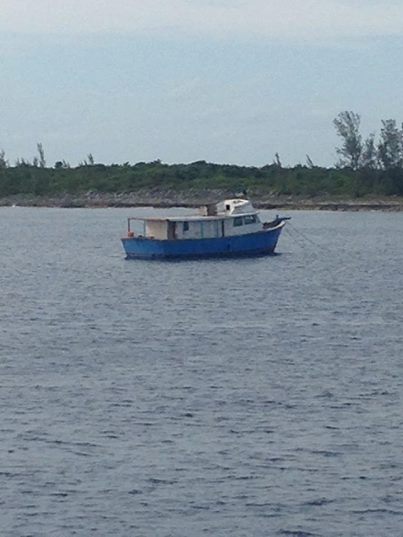 These crew members consisted of one (1) Haitian national and five (5) Dominicans. The vessel and occupants were subsequently arrested by Defence Force Marines and escorted to Coral Harbour Base on Saturday  October, 2014, to be handed over to the appropriate authorities for further processing. Authorities will also investigate the immigration status of the six (6) foreign nationals found aboard the Bahamian fishing vessel. The F/V Keffie was captained by Mr. Kendrick Morley of New Providence, Bahamas.
HMBS Leon Livingston Smith is a newly acquired patrol craft that was commissioned on 19thThe 142-foot vessel is named after the first Bahamian Commander Defence Force, Commodore Leon Livingstone Smith (retired).
The Royal Bahamas Defence Force remains committed to "Guarding Our Heritage" and the sovereignty of the Commonwealth of the Bahamas.
Meanwhile  the RBDF acting on intelligence, the Royal Bahamas Defence Force along with other law enforcement agencies apprehended twenty-four (24) Haitian Migrants after a blue and white motor vessel landed in the Hole in the Wall area at the southern end of Abaco on Sunday, 5th September, 2014.
Defence Force patrol craft, Her Majesty's Bahamian Ship HMBS Aurthur Dion Hanna, which was on routine patrol in the central Abaco area was dispatched to Hole in The Wall to secure the migrant vessel. Additionally, Defence Force personnel stationed in Abaco, along with Immigration officials and local police are presently on the ground searching the immediate area.The twenty-four migrants consisting of twenty-two (22) males and two (2) females were handed over to the Immigration Department with the intent to transport them to the capital.
The Commander Defence Force, Commodore Roderick Bowe, expresses his thanks and appreciation for the assistance received from the local community in providing critical information which culminated in the apprehension of the migrants.